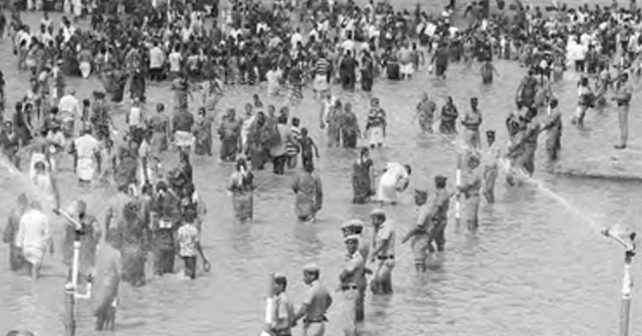 A day after the Mahamaham,at Kumbakonam, Tamil Nadu, study commissioned by the District Collector has found the  level of pollution increased in the water tank.
About 30 lakh odd devotees took a holy dip in the tank on Mahamaham day. A private institution which conducted a sample study of the water, based on a request from the District administration, found that there was considerable presence of urea and e-coli in the water. Also found the pollution level varied from 40 per cent to 28 per cent.
The presence of chemicals and toxic nature of contaminants is not uncommon following such a massive gathering of devotees in one place. The 9-day event saw over 35 lakh devotees gathered at the holy site.
A senior district official said that despite their best efforts to see the flow of water continues in the tank, it's likely that some amount of contamination would take place. "Due to the sprawling area of the tank, we could maintain only 2 feet. Our idea was to keep the water flowing through the tank. But, due to a lower level, it was difficult to maintain a smooth outflow. So, obviously, the water got contaminated and the pollution level increased subsequently as devotees were pouring in continuously," he said.
The team has submitted its full report. The study is part of the police department's overall report on the event, which was very successfully conducted. As many as 25,000 cops were posted to handle the crowd. Some of the police who were on duty at Mahamaham tank complained of skin problems due to continuous exposure to the tank water. A policeman who was on duty at the tank said, "Though we were supposedly on duty for just two hours, many of us stood in the tank for several hours which affected our feet."
Though the authorities tried to keep 75 litre per second in flow and an equal quantum of discharge to check stagnation, the vast size of the tank, the heat and the sheer number of people kept the level to two feet which was not enough to ensure a smooth outflow. "Devotees are conscious to personal hygiene, but at times cheap dyes from clothes added to the contamination level," said a priest at the temple. Agency reports quoting a district official said that nearly 46 lakh people participated in the Mahamaham festival.
The Mahamaham festival that concluded, was the culmination of a two-year long preparation. All departments, including police, worked in tandem around-the-clock ensuring proper management of pilgrims. Talking to newsmen, Collector N Subbaian said the festival which began on February 13 passed off without any incident.  While an estimated 23 lakh people took the holy dip in the tank till the seventh day on February 19, the weekend saw a heavy turnout with Sunday alone recording nearly ten lakh pilgrims, officials said.
Courtesy : dt next,