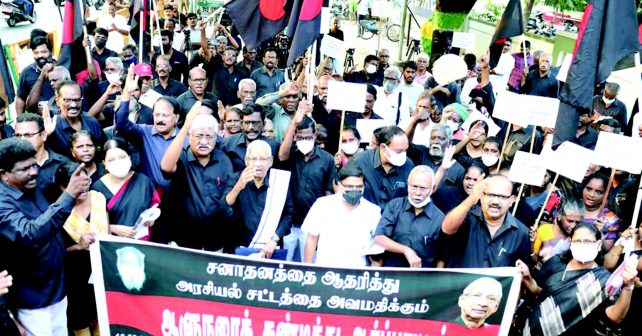 Sanatana is contrary to equality and equal opportunities ensured in Indian Constitution to every person.
Sanatana may be the preference of oppressive cults as individuals. But the State Governor of Tamil Nadu, who is the constitutional head of the State governance cannot uphold Sanatana. It is against the oath of affirmation as of Indian Constitution while assuming the office. 21 Bills, passed by the State Legislative Assembly are pending for action by the Governor since 2020. Instead of acting upon the Bills for the follow up of the duly elected State Cabinet, the Governor is projecting himself as the Sanatana propagandist. The present 'avatar' of Sanatana is Hindutva. The Governor has to act with secular perspective as adumbrated in the preamble of the Constitution.
A protest demonstration in public was organised by Dravidar Kazhagam (DK) on 14th June 2022 at Chennai. Asiriyar Dr. K. Veeramani, President DK exposed the origin of Rishis who were said to have founded Sanatana. It is said that almost all the rishis were born to animals. It is highly unscientific and impossible too.
Justice D. Hariparanthaman, former judge of Madras High Court narrated about the 'time limit' within which the Governor has to act upon on the Bills. The Constitution Assembly debated over the 6 weeks time for the Governor to act upon. It felt that 6 weeks are too long a period for action. Hence the Assembly left the period unspecified. Prof. Suba Veerapandian of Dravidian Tamil Federation and other functionaries of DK addressed. Many black shirt cadres of DK along with the public participated in the protest demonstration, for the TN Governor to act on what is to be acted upon substantively.