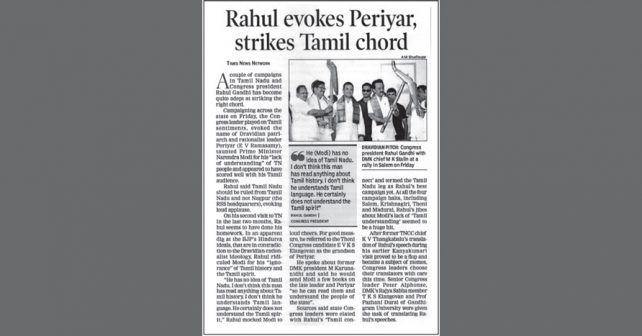 A couple of campaigns in Tamil Nadu and Congress president Rahul Gandhi has become quite adept in striking the right chord. Campaigning across the state the Congress  leader played on Tamil sentiments, evoked the name of Dravidian patriarch and rationalist leader Periyar (E V Ramasamy), taunted Prime Minister Narendra Modi for his "lack of understanding" of TN people and appeared to have scored well with his Tamil audience.
Rahul said Tamil Nadu should be ruled from Tamil Nadu and not Nagpur (the RSS headquarters), evoking loud applause. On his second visit to TN in the last two months, Rahul seems to have done his homework well. In an apparent dig at the BJP's Hindutwa ideals, in stark contradiction to the popular Dravidian- rationalist ideology in Tamil Nadu, Rahul ridiculed Modi for his "ignorance" of Tamil history, Tamil language and the Tamil spirit.
"He has no idea of Tamil Nadu. I don't think this man has read anything about Tamil history. I don't think he understands Tamil language. He certainly does not understand the Tamil spirit," Rahul mocked Modi to loud cheers and jeers. For good measure, he referred to the Theni Congress candidate E V K S Elangovan as the grandson of Periyar.
He spoke about former DMK president M Karunanidhi and said he would send Modi a few books on the late leader and Periyar "so he can read them and understand the people of the state". Sources said state Congress leaders were elated with Rahul's 'Tamil connect' and termed the Tamil Nadu leg as Rahul's best campaign yet. At all the four campaign halts, including Salem, Krishnagiri, Theni and Madurai, Rahul's  jibes about Modi's lack of 'Tamil understanding' seemed to be a huge hit.
After former TNCC chief K V Thangkabalu's translation of Rahul's speech during his earlier Kanyakumari visit proved to be a flop and became a subject of memes, Congress leaders were careful to pick their translators this time. Senior Congress leader Peter Alphonse, DMK's Rajya Sabha member T K S Elangovan and Prof Pazhani Durai of Gandhigram University were given the delicate task of translating Rahul's speeches.
Courtesy : The Times of India