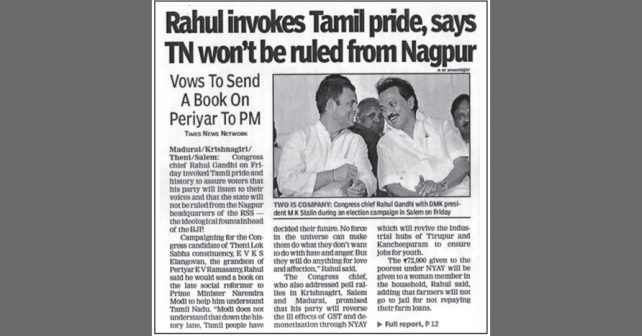 Vows to send a Book on Periyar to Prime Minister
TWO IS COMPANY: Congress chief Rahul Gandhi with DMK president M K Stalin during an election campaign in Salem.
Madurai/Krishnagiri/Theni/Salem: Congress Chief Rahul Gandhi on Friday invoked Tamil pride and history to assure voters that his party will listen to their voices and that the state will not be ruled from the Nagpur headquarters of the RSS-the ideological fountain head of the BJP.
Campaigning for the Congress candidate of Theni Lok Sabha constituency.  E.V.K. S. Elangovan, the grandson of Periyar E V Ramasamy, Rahul said he would send a book on the late social reformer to Prime Minister Narendra Modi to help him understand Tamil Nadu.  "Modi does not understand that down the history lane, Tamil people have decided their future.  No force in the universe can make them do what they don't want to do with hate and anger.  But they will do anything for love and affection." Rahul said.
The Congress chief, who also addressed poll rallies in Krishnagiri, Salem and Madurai, promised that his party will reverse the ill effects of GST and demonetisation through NYAY which will receive the industrial hubs of Tirupur and Kancheepuram to ensure jobs for youth.
The Rs. 72,000 given to the poorest under NYAY will be given to a woman member in the household.  Rahul said, adding that farmers will not go to jail for not repaying their farm loans.
Courtesy : The Times of India
Athlete Gomathi WON Gold Medal in Asian Games 2019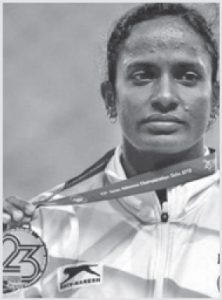 On April 22nd early morning the widow mother was about to leave for agricultural field work in a typical rural village in Tamil Nadu. Her neighbors rushed to her with happy news of her daughter Gomathi winning 'Gold Medal' in 800 metres race in Asian Athletics Championships held in Doha, Qatar. The humble mother had to depend others to switch on the TV to view the performance of her daughter. Gomathi broke her national record by completing the international event in 2.07.70 minutes. Hailing from rural background, with no formal trainer during the initial days she has achieved the laurel at the age of 30 years. Talent and ability remains unnoticed at several levels which requires proper support and patronage from the State dispensing social justice. Congratulations to Ms. Gomathi and wishes to attain great heights over the record you have set in!