Ram Vilas Paswan was introduced to Kalaignar M.Karunanidhi by Asiriyar Dr.K.Veeramani at Social Justice Conference, arranged by Dravidar Kazhagam in Trichy, Tamil Nadu (1982)
Dr. K. Veeramani
Ram Vilas Paswan was a precious gift by Bihar to the cause of social justice. He was a great ideologist with exceptional virtues. As a humanist with rationalistic thoughts, he had been relentlessly striving for the emancipation and the upliftment of the underprivileged downtrodden people of Bihar. He had great regard for Thanthai Periyar's principles and ideals. In issue based fights, we were on the same wave-length. Ram Vilas and I had been like birds of the same feather in our struggle to establish social justice and eradicate caste-based politics. He had been undeniably an inimitable stalwart bestowed by northern India.
Blossom of Intimacy
As an ideal revolutionist he had suffered 33 imprisonments by the time he was just 32 year old. He was quite tall in structure and majestic in appearance. His principles and missions and his journey of life were equally majestic and gigantic. His thundering speeches in Bihari Hindi used to be like roars of a lion on the stage. As a ripe leader he had sealed glorious victory eight times and served as parliament member. He had great veneration towards Thanthai Periyar and true affinity towards Dravidian Movement in Tamil Nadu. He had been a faithful friend with an inseparable bondage with us throughout his life.
It was in 1980 that our intimacy sprouted from our identical ideals. Chandrajit Yadav, who was a great custodian of social justice, introduced Ram Vilas Paswan to me at the parliament lobby in New Delhi. He made us meet again at a dinner meet in his residence at North Avenue. Chandrajit built for us a strong bridge of true friendship.
Ram Vilas Paswan and I became good friends because our ideals, vision, mission and principles were all similar and identical. We both had much in common. That strengthened our bondage. I gave him books comprising social revolutionary thoughts and ideals of Periyar. Ram Vilas Paswan evinced much interest in the writings of Periyar. He must have chewed and digested the books containing Periyar's thoughts. This made him meet me quite often during his lifetime. I decided to introduce him in Tamil Nadu as a "Fire brand Young Leader". This was done on an appropriate occasion.
Mesmerising Speech
In 1982 at Trichy, the heart of Tamil Nadu, we held a conference to stress the protection of rights for the Scheduled Castes, the Scheduled Tribes and the Backward Classes. Ram Vilas Paswan was invited to deliver a special speech during the conference. Kalaignar Karunanidhi was in a hurry to leave for Delhi from the venue. It was then that we introduced Ram Vilas to him. They had a lively chat. Ram Vilas was delighted by the formal introduction. The conference went on till 2 a.m. and Ram Vilas Paswan delivered a mesmerising speech explaining his policies. The crowd enjoyed the provocative speech of Ram Vilas. It was like a shower of bullets from a rifle. In his speech, Ram Vilas emphasised that the Hindu religion is against humanism and equality. Hence we can never compromise with it at any cost. He condemned people who oppose caste based reservations. He challenged them to abolish caste system daringly and stressed that caste based reservation would exist and should exist as long as caste system exists.
Significant Chennai Conference
We planned to hold a mega conference at our Periyar Thidal in Chennai to discuss the Mandal Commission Report. We decided to invite eminent leaders and great thinkers from northern India. Chowdhry Brahm Prakash was a former chief minister of Delhi and a close companion of Jawaharlal Nehru. He had formed a forum called NUBC "National Union of Backward Classes". We invited everyone on behalf of this forum. We made several leaders of scheduled classes unite and attend our conference. Most of them attended, including Ram Vilas Paswan. Kalaignar Karunanidhi graced the conference as the chief guest. He participated with great delight and honoured us by his presence. On this occasion NUBC (National Union of Backward Classes) was expanded as NUBC SC ST & Minority. It was a great success and achievement for the Dravidar Kazhagam. Our tireless efforts had yielded marvelous result. Ram Vilas Paswan had always been encouraging us, which is noteworthy.
Deluge of Emotions in Bihar
A memorable conference was held jointly by the scheduled caste people of Bihar and aborigines of hill-tribes. This was held at Patna, Bihar, in the vast Gandhi Ground. The conference commenced at 3 p.m. on 9th of October, 1983. It was on open-air conference. Ram Vilas Paswan had invited me to deliver a speech as a special invitee. Nearly two lakh people had assembled at the venue of conference. Several eminent dignitaries from Tamil Nadu participated.
During that two-day conference which went on up to midnight, Ram Vilas urged the new Prime Minister Indira Gandhi to present the Mandal Commission Report in the Parliament and also to take steps for implementation of the commission's recommendations. During the conference it was resolved that "Reservation is non-negotiable." It was declared indisputable. Ram Vilas Paswan's role in promulgating this was significant. Several other dignitaries present also voiced their support to Ram Vilas Paswan. Chandrajit Yadav was one of them. In brief, this Bihar conference was not only historical but also historic in my opinion.
Ram Vilas Paswan as Union Cabinet Minister
When V.P. Singh was elected the Prime Minister, Ram Vilas Paswan was appointed the Minister of Labour Welfare Department. V.P. Singh was a great saviour of social justice. In helping him implement Mandal Commission recommendations, Ram Vilas Paswan was instrumental. Both of them were on the same wave-length of thoughts.
Dravidar Kazhagam time and again commended the activities of V.P. Singh. There were productive efforts on the part of Kalaignar Karnanidhi of the D.M.K. for several reformations. In South India and North India, Dravidar Kazhagam conducted 42 conferences during that particular period. 16 continuous agitations were also conducted by us. During the events organised by us in northern cities, Ram Vilas always used to accept our invitations and participate.
Visit to Periyar Thidal
After assuming office as Union Minister, Ram Vilas visited our Periyar Thidal in Chennai. He paid homage at Periyar memorial and nostalgically had a long chat with me and our cadres.
Dr. Ambedkar Centenary Celebrations
Ram Vilas Paswan played a vital role in the formation of an exclusive committee for Ambedkar centenary celebrations. The first meeting was convened under the presidency of the Prime Minister V.P. Singh. I was one of the committee members, as the General Secretary of Dravidar Kazhagam and as the editor of the Tamil daily 'Viduthalai'. Ram Vilas Paswan was the vice-president of this committee. The centenary celebration was planned and discussed in detail.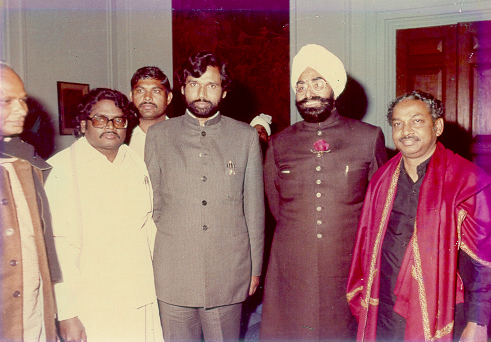 Asiriyar Dr. K.Veeramani accompanied by Ram Vilas Paswan and Dr. V.Kulandaivelu, M.P. (DMK) met the President of India, Giani Zail Singh at Rashtrapati Bhavan, New Delhi for the acceptance and implementation of Mandal Commission recommendation (1983)
Home for destitute Children
We have a caring home in Trichy for destitute children functioning as 'Nagammaiar Home for Children'. When this home was shifted to a new building, we invited V.P. Singh and Ram Vilas Paswan. The inauguration was on 28th December 1992. V.P. Singh was not the Prime Minister then and Ram Vilas was not a union minister.  Inspite of this, they magnanimously honoured our invitation and attended the inauguration. They learnt from us the inception-details pertaining to the home. We explained the growth and activities of the home during the lifetime of Maniammaiar and later during the days of Periyar. They listened to us patiently and commended the services of the Home. These are all indelible memories for me.
Protest against Racism and Genocide
Ram Vilas Paswan always used to extend his support whenever we agitated against racism and genocide in Sri Lanka. In our fight for the rights and welfare of Sri Lankan Tamil population, he used to join us and express solidarity. He used to participate in our events related to the issue concerned.
Ram Vilas Paswan, a Noble human
Throughout the rest of his life, Ram Vilas used to frequently meet me and Kalaignar Karunanidhi in Chennai. Once when I took ill, I could not meet him in Chennai on an occasion. Before his departure, he rushed to my residence in Adyar (Chennai). He wished me a speedy recovery, had a lively chat as usual and left to the airport. Could I ever find a noble friend like him?
It happened again. When he was offered a position in the cabinet headed by the Prime Minister Narendra Modi, he made a lightning visit to Chennai on some official work. Though he could not meet me in person, he spoke to me over phone at 11 p.m. from the Chennai airport lounge. He enquired about my health, conveyed his regards and departed.
Two weeks before his passing away, I tried to talk to him over phone, but I could not get a connection. Prolonged illness has snatched him away from us. Cruel nature has seized a great humanist, but the memories of Ram Vilas Paswan are everlasting. We feel we exist as lone warriors on a battle field, without weapons.
May the memory of Ram Vilas Paswan linger in our minds forever! May a casteless society be born at the earliest!
Excerpts from the forth coming book, 'Ram Vilas Paswan – Significant Stalwart of Social Justice' by Dr. K. Veeramani