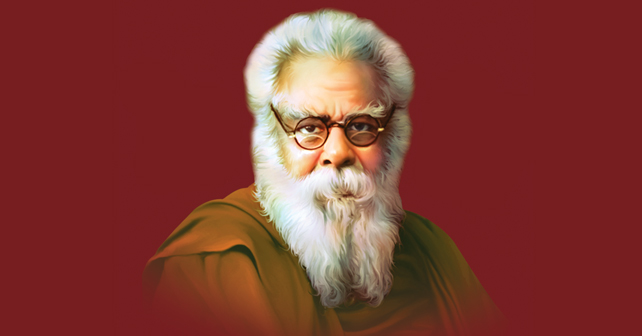 Dharmapuri is one of the prominent cities in Tamil Nadu. At a vantage point here Periyar's statue was erected at 7 P.M. on 24th May, 1969. It was the maiden installation. The bronze statue depicted full image of Periyar. It was unveiled by Kalaignar M. Karunanidhi, who was then the Chief Minister of the state. The grand event concluded with a speech by Periyar, explaining the objective behind the erection of his statue. The content of his speech is as follows in a nutshell:
Hearty Thanks
My dear cadres, friends and followers, I am delighted by the presence of every one of you. I convey my gratitude for unveiling my statue here. You have all assembled here to honour and make me proud. My well-wishers who spoke before me eulogised me to a great extent. I can tolerate brickbats but bouquets embarrass me. I am not sure whether I deserve so much of love and regard, but I promise to rise to your level of expectation. At the outset, I thank you all for the confidence reposed in me and for your invaluable respect.
Destructive Movement
Ours is not a constructive movement. It is a destructive movement. Are you shocked? You need not be. I just implied that we destroy blind faith, superstitions and social injustice. We destroy dehumanisation, degradation, domination and discrimination. We have entrusted our government to destructive rulers. Can you infer what I really mean? Today our state is being ruled by rationalists. Only rationalists can destroy social evils. Only rationalists can use their ability to reason and reform ignorant people in the society.
---
My statue erected here is not meant for worship or the toll of bells. It is the statue of the one who denies the existence of god. It is the statue of an atheist who believes that one who invented god is a fool; one who propagates god is a scoundrel; one who worships god is a barbarian. It is not the statue of an individual named Ramasamy. This statue is installed here to tell every believer that god is an illusion.
---
By outdated codes of conduct, meaningless scriptures and fables of fantasies people of the bygone eras have made our people superstitious. Our society has been languishing in the darkness of ignorance. Only our rationalism can draw them out of it and cause their reformation. I hope you would now understand that I used the word destructive in a positive sense and not at all with a negative approach.
Trust Earned by Us
The present rulers of Tamil Nadu have not assumed office by foul means. They convinced people that they are against belief in god, religion, caste and creed, scriptures and meaningless customs. They made it clear that they would destroy them all if they are granted power to rule. Having understood them well, people bestowed their mandate willingly with profound trust. People cast their votes and made them victorious by fair means.
Unique C.M. Anna
Our former Chief Minister Anna was also a staunch rationalist. He burnt the copies of 'Ramayana' and condemned all the mythologies and ancient scriptures. He has authored a number of books highlighting his contempt. Most of the newspapers treat us as rivals and avoid news related to our policies and activities. They keep churning out articles against us and slinging mud on us. And yet, they could not avoid reporting that more than three million mourners rushed to pay homage when Anna passed away.
They were all aware of the truth that Anna was an atheist, weren't they? And yet they rushed to pay their respect to the departed leader.
Anna's Drastic Steps
It was Anna who enacted law ratifying self-respect marriages. It was he who ordered removal of framed pictures of gods and goddesses from all the government offices. He stressed that belief in god, religion, caste and outdated rituals are not needed for a marriage. He made it clear that it is enough if the couple take an oath to lead an amicable life mutually treating each other with equality. This proved that his government did not believe in god, religion, caste and outdated scriptures. Does it make Anna proud or somebody else? No other ruler in the past has ever taken such drastic steps.
Need for Reforms
My statue erected here is not meant for worship or the toll of bells. It is the statue of the one who denies the existence of god. It is the statue of an atheist who believes that one who invented god is a fool; one who propagates god is a scoundrel; one who worships god is a barbarian. It is not the statue of an individual named Ramasamy. This statue is installed here to tell every believer that god is an illusion. I shall welcome the demolition of all the places of worship. There is a dire need for this reform.
None Fought Like Us
For centuries, our state has been ruled by superstitious Brahmins. They have been dominating every field. School education has also been monopolised by them. By our restless struggle today Brahmins find no place in our movement and governance. Had we not fought for this achievement we would have been still under their domination. They stay away from politics by our strife. They are in fact in no way superior to us. We broke the caste barriers and elevated the suppressed low caste people to the level of ministers. Many downtrodden people are today in coveted posts and positions. Besides us, none has ever fought to eradicate the evil called untouchability. But this injustice still persists in our country, in spite of our strenuous efforts. The Congress leaders and even Gandhi did nothing to abolish untouchabilitry.
Unabashed White Lie
How can untouchability get eradicated if we continue clinging to god, religion and temples? An individual remains untouchable because of the god he worships and the religion that he follows. As long as he worships his god standing outside the temple, the stigma of 'untouchable' would not vanish. Unless he boldly abandons god and religion, he cannot be relieved from the shackle of untouchability. Some leaders in the Congress are found declaring that they have eradicated the evil but it is a white lie!
Reformation in Kerala
We fought for the temple street entry rights of low caste people in Kerala. We succeeded in making them move freely on all the streets and roads. But anti-social elements incited violence when we held seminars to ignite awareness among people.
The upper caste fanatics caused communal riots to suppress us but in vain. Temple entry right was granted for all but we had to maintain distance from Brahmin worshippers. When I argued with Gandhi about this half-baked privilege, he deflected with evasive answers. However, we were able to bring about reforms at least to some extent in Kerala and script history.
Reforms by the DMK
The present government headed by the Dravida Munnetra Kazhagam (DMK) has already curbed Brahmanic domination to a great extent. They are no longer prominent in politics, administration, employment and in the field of education. By the efforts of the government, 10 of the 14 judges in Madras High Court are Tamils. Only 4 are Brahmins. The efforts are being taken for the appointment of more advocates and judges from the oppressed groups of our people.
Not only in the world of judiciary, but also in the sphere of education the present government has surpassed the government formerly headed by Kamaraj. Upto Pre-University courses, education is free today for the students of our state. The racial affinity of the DMK is unique. Its reforms are indeed many more. Other parties continue to be sycophants, flattering and eulogising brahmin coteries.
Newspapers seem to play a dual role in publishing news reports. They print our snaps and write a little bit about our policies. Gradually they shift their stand and begin to serve Brahmin coteries.
Support the Reformers
Our children are no longer cowherds and shepherds. They demand education, followed by employment. We must be thankful to the present rulers in our state. They need our consistent support. We still have a long way to go. Our progress may be hindered by rivals at any point of time. The present government is like walls shielding us. Our duty is to prevent their collapse. Until these walls become indestructible, we must vigilantly protect them.
Propagating Task
Time and again our movement involves itself in unveiling statues and portraits. We construct monuments, memorials and mausoleums only to keep propagating our ideology.
One day in future, when someone points to my statue and asks his friend whose statue it is, the friend may reply thus: "It is the statue of Periyar who boldly denied the existence of god." Thus, my policies and principles would spread everywhere. I wish the statue of our Chief Minister Karunanidhi also gets erected, as mine has got here. My dear cadres, you want me to live longer and serve the society. Serving is a pleasure indeed but a long life is an inexplicable pain.
Thanks for your good wishes.
Courtesy: Viduthalai
(Translated by: M.R.Manohar)