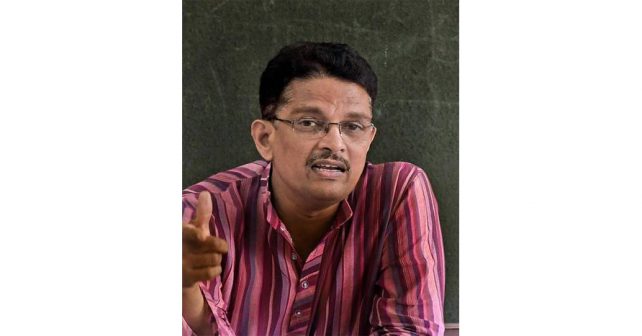 Avinash Patil
Executive President
Maharashtra Andhashradha Nirmulan Samiti
A well-known saint of Maharashtra, Tukaram Maharaj says 'Rationality is the source that leads all human beings towards completion'. Not only he but all social and religious reformers and the people who struggled for the equality, justice, brotherhood, and harmony of all human beings on the planet earth work on this principle. They want common people to be the followers of rationality for welfare of all. Rationality, like other institutions, theories, technologies and science, during the development of human civilization has played a vital role in its establishment. Rationality may be attributed as the principle of selecting the best that based on welfare of many with the peace and tolerance among human beings. It also leads towards the ethical behavior of the people to establishment of human beings' relations with not only other human beings but with entire nature and other animals. Humanity based on rationality envelops the welfare of all animals and their existence on the planet with mutual and careful understanding with nature.
Maharashtra Andhshradha Nirmulan Samiti (MANS) commenced its works in the field of superstitions at the earliest but later it touched important aspects of Indian society that will help to itself as a rational society. 'Eradication of Superstition's is coin word in today's socio-cultural context of Maharashtra due to the contributions of Maharashtra Andhashradha Nirmulan Samiti and creative leadership of Dr. Narendra Dabholkar. He established this organization on 9th August 1989. It completed 30th anniversary of its establishment in 2019. MANS spread throughout Maharashtra, with 350 units, with not only Dr. Dabholkar's imagination, innovative, and creative programmes but he sacrificed his life for his objectives.
MANS started its works with exposing so called Godmen and people claiming themselves as the incarnation of Gods on earth. Later, the works got the basis of scientific temperament, criticism of religion, secularism, rationality, and humanity. From exposition of exorcists to pass a bill on black magic and social boycott is the journey of MANS via support to inter-caste- inter religion marriages on the basis of reason. Saints and reformists of Maharashtra criticized caste system, superstitions, and rituals. MANS continued this legacy with creative activism and organization.
Thirty years of the work may be divided into three decades: in first decade, MANS started its works at five to ten branches and a handful of volunteers connected with the works. The achievement of the first decade was to convey the importance of the work. Society accepted that there are superstitions and they must be eradicated. We exposed so many Godmen, black magic incidents etc. People attracted towards this work. Especially youth attracted towards it due to thrill and innovative nature of the work. In the second decade, society certified the MANS as the chief whistleblower of the work and recognized its expertise in the field. MANS worked on different issues such as: animal sacrifice, enlightenment, dakin tradition, bhanamati, black magic, human sacrifice, exploitation of women, astrology etc. Activists went through the society and asked different questions to rituals and superstitions among school students, teachers, and parents. Programmes such as: women's temple entry at Shanishingnapur, donation of Ganesh idol, cracker free Diwali, environmental Holi,inter-caste, inter-religion marriages, simple marriages or rituals free marriages underline importance of constitutional awareness among people. In the third decade, the journey from constructive criticism of religion to rationality became the coin term.  It reflects the fundamentals of MANS.
Our urgent need is to understand the importance of rationality for the development of humanity. Humanity has been developing since its inception but it has to change its dimensions according to time and human conditions within natural circumstances. Once, in ancient time, religion developed different concepts and dimensions with divine powers such as God, Goddess, and incarnations. However, later development of sciences and humanities changed the discourse of religion and humanity reached to modern thoughts of freedom, justice, equality, and rationality without religion and celestial powers. MANS did the same in Maharashtra to change the perception of common people towards these aspects.
MANS has its commitment to two major aspects: first its commitment to saint and reformists of Maharashtra and India who messaged morality, ethics, brotherhood, rationality, humanity, justice, and nonviolence through their works; second, the constitution of India that supports all these things through its preamble and constitutional provisions. It does not make difference between man and woman and permits both the genders to walk at all places including school, college, market, parliament, and temple. It does not support any inhuman and atrocious ritual that decrease the person's dignity and freedom. The constitutional behavior of Indian society will lead it to a society that aimed by MANS as 'ethical and rational society'. So, aims and objectives of MANS are the aims and objectives of Indian Constitution.
Our experience of thirty years shows that superstitions are one of the main hurdles in establishment of humanity in the world. They don't give ample space for the development of the women, downtrodden, and deprived, but it makes exploitation of these classes easy. Superstitions create godmen, they create rituals as their business. Unscientific thoughts, lack of criticism and evaluation of customs and traditions, fake pride of traditions and religion make possibilities of exploitations.
From this early works and experience of MANS, it reached in the sphere of humanity from constructive criticism of religion on the basis of ethics. Constructive criticism of religion sprouted humanity based on rationality. European renaissance and enlightenment movement rejected the God and it does not believe on religion as the source of ethics; however, MANS wants to make these more humanitarian. It welcomed ethics, values, morality, and rationality from the religion and God, and rejected the exploitation, atrocities, and injustice in the name of religion and God.
The dialogue, sympathy, and acceptance that created for the MANS in the society was not digested by the fundamentalists and extremists. They don't want to ask any questions, though based on humanity, rationality, and constitutional provisions, to rituals and superstitions. Fundamental and extremist bigotry resulted in the murder of Dr. Narendra Dabholkar. It continued into murders of other humanists like Comrade Govind Pansare, Prof. Dr. M. M. Kalburgi, journalist Gauri Lankesh. All these murders have links, as investigated by agencies, to religious extremists in the State.
to be continued in the next issue…