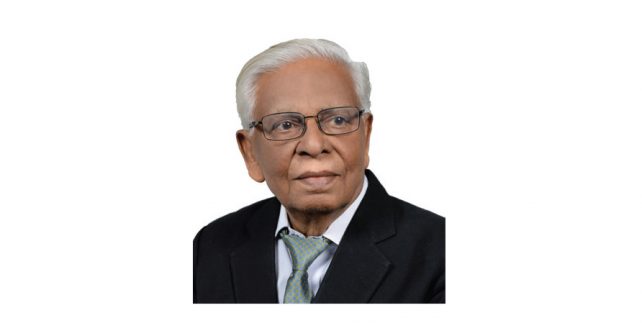 We deeply regret, the veteran financial expert and management consultant, Dr.S.Rajaratnam (age 92 years) passed away on 18th July 2020 in Chennai. We were shocked to hear the demise.
Dr.S.Rajaratnam had been a great source of strength through his enriched financial advice to manage the trusts of Periyar movement. As a rationalist with humanist fervor, he was moving with all people whoever approached him for consultancy and personal advice. After superannuating from Indian Revenue Service, he had been contributing articles on and his views about the financial, fiscal and in particular the tax governance and management in the social media.
He was rendering educational service as Pro Chancellor of Periyar Maniammai Institute of Science and Technology (Deemed University), Vallam, Thanjavur. His gracing the Editorial Board of The Modern Rationalist magazine was significant on many a front.
His demise is a heavy loss to his family and the financial fraternity; it is irreparable loss to Periyar movement.
We pay our respectful homage to the great intellectual stalwart Dr.S.Rajaratnam and console ourselves. We convey our deep condolences to his beloved sons, the family members and the fraternity.
Long Live Dr. S. Rajaratnam!
Long Live His intellectual tradition! !
K.Veeramani
President – Dravidar Kazhagam
Editor in Chief – The Modern Rationalist
OBITUARY
Rajaratnam,IRS -could 'smell the brief' -He way synonymous with I-T Law
In the last few decades, if there was one man whose name was synonymous with the law of income-tax, it was that of Mr. S. Rajaratnam, IRS, who breathed his last on Saturday at the age of 92.
My lawyer-friend told me while breaking the news this morning that in the last twenty years or so he had not seen Mr. Rajaratnam miss a single study-meeting organized by the professionals. Such was his eagerness to learn, and share what he knew. He never dismissed an idea or a seed of an idea out of hand; he would think, nurture the idea, water and manure it and develop it into a full-grown theory, the same way in which he would pass orders during his long stints in the Indian Revenue Service and in the Income Tax Appellate Tribunal.
Mr. Rajaratnam's stint in the Tribunal was a golden era, particularly for the junior members of the Bar. He could "smell the brief" as they say! You had only to stand up, and he would anticipate all your arguments and sum it up for you. He would have looked up all the facts and all the law himself. He never stood on the formalities of a judicial proceeding; his only aim was to do justice. Patience he had in abundance; not a frown creased his face, nor a harsh word was uttered.
The profession will undoubtedly miss Mr. Rajaratnam's sobering counsel. The values he stood for are eternal. His motto in life appeared to me to be only to share his stupendous knowledge with others so that it may benefit them.
(The writer is R.V.Easwar a retired judge of the Delhi High Court and previously, the President of ITAT)
Courtesy: The Hindu