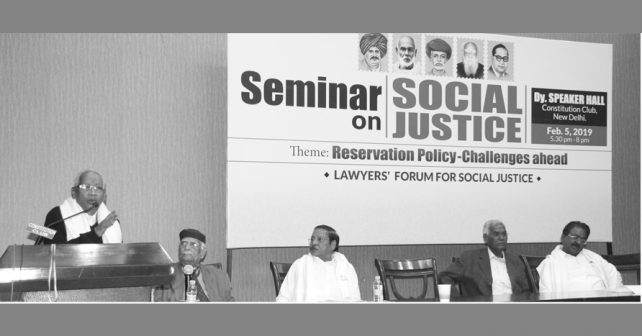 Asiriyar K.Veeramani addresses the Seminar. Respectful Members of Parliament R.S Bharathi, D. Raja and T.K.S Elangovan and Senior Advocate R. Subba Rao are on the dais – New Delhi, 5th February 2019
The 103rd Amendment to the Constitution, rushed through the Parliament is a proof that the people in power still retain the authoritarian mindset which was responsible for introducing caste hierarchy through the obnoxious Manusmriti, said Asiriyar Veeramani and vowed that the amendment which introduced reservation to the upper classes would be opposed not only in the judiciary, but also in the people's court, in the seminar organized by 'The Lawyers' Forum for Social Justice' on "Reservation Policy – Challenges Ahead", at Constitution Club in New Delhi on 5th February 2019.
Senior Advocate Subba Rao who presided over shared his bitter experiences when he found considerable reluctance on the part of the judges belonging to the upper castes in doing justice to the depressed classes.
R.S. Bharati, the Dravida Munnetra Kazhagam Member of Rajya Sabha referred to the contributions of Thanthai Periyar, Arignar Anna and former chief minister K. Kamaraj to the concept of social justice.  It was Periyar who introduced the concept throughout India when he got the Constitution amended for the purpose.  The present move to reserve 10 per cent of seats to the economically weaker sections in the other communities is against the Constitution and the DMK has filed a case in the Madras High Court against the amendment.
D.Raja, CPI member of Rajya Sabha said that the new reservation policy was unconstitutional. T.K.S. Elangovan of DMK exposed the conspiracy of upper class people who had bent the Constitution to their convenience. Jayaprakash Narayan Yadav, RJD Member of Rajya Sabha addressed the seminar.
The seminar was co-ordinated and compeered by G. Karunanidhy, General Secretary, All India Backward Class Employees' Federation.  It concluded with a Vote of Thanks by V. Kumaresan, Treasurer, DK.