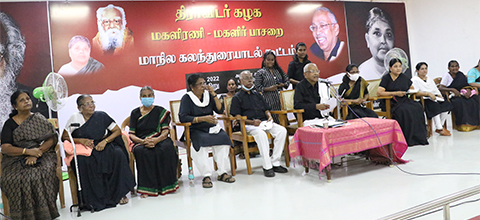 The Women's Wing and the Women's Barrack of Dravidar Kazhagam jointly organised a discussion meet, getting together on 12th June, 2022 in Tiruchirapalli. After discussing several current issues and problems, the cadres moved, passed and unanimously adopted sixteen vital resolutions as an agenda for future activities. Those resolutions are listed briefly here below: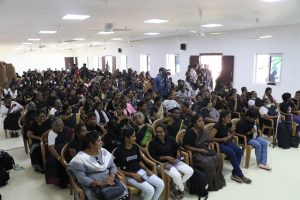 1. RESOLVED to condole the recent passing away of some of the prominent, dedicated cadres of Dravidar Kazhagam and to convey sincere consolation to their family members.
2. RESOLVED to thank Asiriyar Dr. K. Veeramani for his invaluable patronage to both the forums of women and to greet him whole heartedly, upon his completion of 44 years of leadership on 18th March, 2022, as the President of Dravidar Kazhagam.
3. In recognition of Asiriyar's completing in August 2022, 60 glorious years as the Editor of 'Viduthalai' daily, Dravidar Kazhagam has decided to collect 60,000 subscriptions for it. Hence, the women's federations have RESOLVED to share the work and collect as many subscriptions as possible.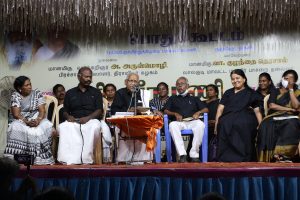 4. RESOLVED to thank the Government of Tamil Nadu for the following 7 historic tasks:
i) Declaring Thanthai Periyar's birthday (September 17) to be celebrated as 'Social Justice' Day and Dr. Ambedkar's Birthday (April 14) as 'Equality Day' every year.
ii) Changing the name of a road in Chennai as 'Annai Maniammaiar Road'.
iii) Granting free bus travel for women in city buses.
iv) Sanctioning 50 per cent reservation of posts for women in the elections for Corporation, Panchayat and Municipalities.
v) Offering posts of Mayor to Women in 11 Municipal Corporations.
vi) Educational Aid to girl students Rs.1000/- per month.
vii) Increase of maternity leave / 40 per cent reservation for Women in jobs / Promoting Women's higher education.
5. RESOLVED to convey thanks to the Congress party for resolving in their CHINTAN SHIVIR meet held in May 2022 at Udaipur – Rajasthan, to strive for reservations for women, in State Assemblies and the Parliament.
6. RESOLVED to urge the government of Tamil Nadu to take appropriate steps to curb all sorts of crimes against women.
7. RESOLVED to urge the government of Tamil Nadu and of all other States, to legally prevent honour killings and ensure protection for couples involved in intercaste marriages, besides according valid registration.
8. RESOLVED to strongly condemn the deletion from text books, lessons pertaining to great social reformers like Thanthai Periyar, and to protest against the Union government's strategy to distort history.
9. RESOLVED to protest against NEET / CUET / and New Education Policy 2020 which are detrimental to students' community.
10. RESOLVED to urge the Government of Tamil Nadu to take steps to make compulsory in schools, teaching martial arts such as Silambam and Karate to girl students, so that they could emerge strong enough to defend themselves.
11. RESOLVED to urge all the women cadres to avoid suffixing their names with the names of their husband, since it is also a sign of enslavement.
12. RESOLVED to bring about a change in the uniform of students by suggesting something much more comfortable, persuading to avoid uncomfortable apparels for young girls, and curbing gender bias among the school students in Tamil Nadu.
13. RESOLVED to act as follows (13 tasks planned)
a) Street corner meetings and State wide tours.
b) Disbursing informative leaf lets and fliers.
c) Enrolling new members.
d) Conducting Periyarism Training exclusively for women.
e) Collecting subscriptions for our publications – especially 'Periyar Pinju'.
f) Propagating policies of our movement using technology through social media websites.
g) Interacting with the eleven women mayors.
h) Conducting Women's State Conference in Sep-Oct 2022.
i) Celebrating Asiriyar's 90th Birthday in Dec 2022
j) Eradication of superstitions among women.
k) Offering women counseling for physical and mental health.
l) Making women aware of their rights and laws related to them.
m) Inculcating scientific spirit in students and conducting discussion meets.
14. RESOLVED to urge the Union Government to review Women's Property Rights issue and ensure perfect implementation for women's welfare.
15. RESOLVED to urge the Government of Tamil Nadu and the Union Government to take steps and prevent obscene content in electronic media, degrading women by vulgar depictions and telecasting obnoxious programmes that offend women.
16. RESOLVED to vigorously protest against hospitals and doctors for mercilessly using little girls inorder to solve infertility problems of childless couples and amass wealth by pitiless trading.
The discussion meet concluded with the adoption of the Resolutions.