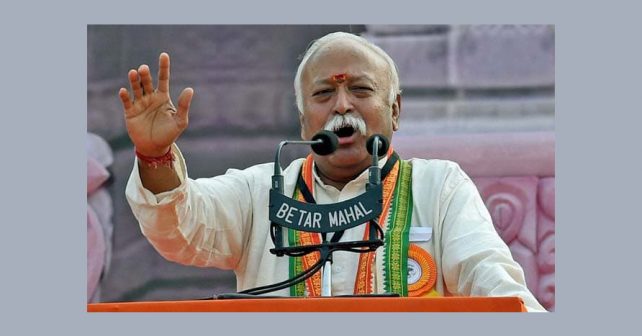 RSS chief Mohan Bhagwat has said recently that without knowing Sanskrit, it is difficult to understand India completely.  It is nothing but their self proclamation, 'Indianisation is nothing but Saffronisation with the linguistic policy of Sanskritisation'.
The RSS chief has uttered a statement that can be very easily disputed by any linguistic expert that all the existing languages in the country, including tribal ones are made up of at least 30 per cent Sanskrit words.
'Imparting education' was denied to major sections of the land for centuries together.  How the Sanskrit, the language of Vedic education that was restricted to miniscule population viz.  Brahmins, could have intruded into the dialects spoken by the various indigenous people.  Sanskrit could not have penetrated into tribal languages.
Sanskrit is the dead language; there is no significant populace that could speak Sanskrit in popular parlance.  It is not a mere language but a symbol of oppression and invasion to keep the toiling masses, enslaved.
Through Sanskritisation, cultural invasion has taken place vastly in the country.  Even now the people who worship their deities cannot do so by chanting mantras in their respective local language. They can't chant mantras themselves; they could do only through the brahminical priests under whose hegemony Sanskrit has been surviving skill.  In social gatherings and domestic functions, the most related persons to the occasion are alienated through chanting of mantra in an unknown language, that is Sanskrit.
The hitherto enslaved masses of the country have to be vigilant to know the real meaning of the propaganda made by the RSS.  The Sanskrit is propagated as a language very dear to the general public.  Such 'dear' salutations are the game plan of the saffronists to bring back the days of the Vedas when Sanskrit was reigning the education arena, enabling it to a group of limited people but enslaving the rest by branding them as illiterates.