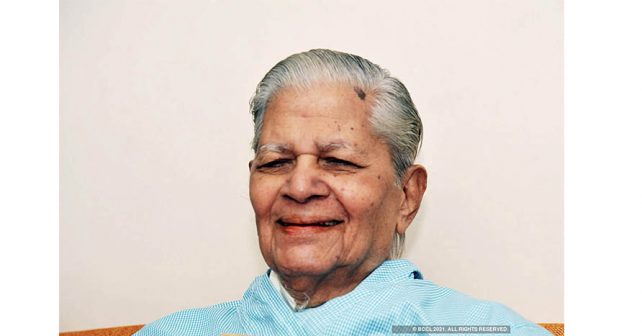 Commander in the Battle for Social Justice
We grieve intensely over the passing away of senior Congress leader Madhav Singh Solanki (93).  He was a brave warrior in Gujarat for social justice.  He had superbly implemented reservation policy during his administration in Gujarat.
Madhav Singh Solanki had a friendly relationship with All India Social Justice warriors – Chandrajit Yadav, Chowdhry Brahmprakash and with us. He made the flag of social justice fly and flutter high in Gujarat, never allowing it to be lowered.  He had great regard for Thanthai Periyar and Dr. B.R. Ambedkar.
Dravidar Kazhagam conveys its heartfelt condolence and consolation to his beloved son and former Union Minister Bharat Solanki and to the members of the bereaved family.
As a leader of the backward class, Madhav Singh Solanki had served four times as the chief minister of Gujarat.  He owns the pride for having served for a significant period as the chief minister of Gujarat.  As a highly virtuous personality he deserves our respect and reverence.  His demise is an irreparable loss, not only to the State of Gujarat and his family, but also to entire Indian nation.  Especially, he would have an eternal, exclusive place in the history of social justice.  We salute honouring him majestically!
K. Veeramani
President,
Dravidar Kazhagam
Chennai
10.01.2021