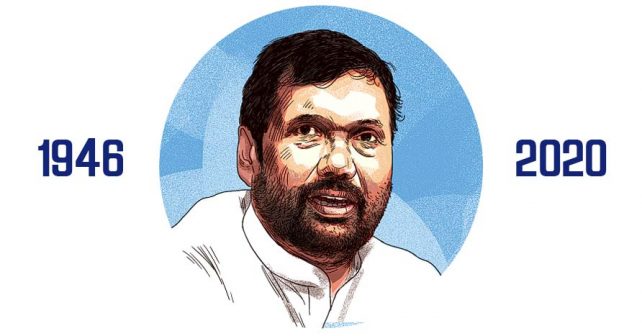 We were shocked to hear the demise of the Founder-President of Lok Janshakthi Party (LJP), Union Minister of Consumer Affairs, Food and Public Distribution system and exceeding all, the sincere Stalwart of Social Justice, our Respectful Ram Vilas Pawanji (age 74) on 8th October 2020 at New Delhi.
When he was admitted at hospital for medical treatment to the heart ailment, we had wished him for speedy recovery and we were hopeful that he would resume normalcy; but the nature has disappointed.
Ram Vilas Paswan was a relentless fighter and a great stalwart-leader who had served for the cause of social justice and social equality throughout his public life. Even at the time of joining political alliances of opponent poles, his commitment and culminating voice for the cause social justice continued strongly. He was highly moved towards the ideology of Babasaheb Dr. B.R. Ambedkar and Thanthai Periyar.
His love, affection and relationship with Dravidar Kazhagam and the Dravidian Movement leader Kalaignar Dr. M. Karunanidhi had endured long. There was a rare occasion that he did not meet us whenever he had visited Chennai, Tamil Nadu.
When the Saviour of Social Justice, V.P. Singh was the Prime Minister, the initiatives taken by Ram Vilas Paswanji were significant very much for the implementation of the recommendations of Mandal Commission.
His winning the Lok Sabha election in 1977 by a margin of 4.24 lakh votes found its place in Guinness Book of Record that revealed the support he had mobilised in the political arena.
We are deeply deprived of in the demise of Ram Vilas Paswan. We have lost a great dedicated leader of social justice in the northern part of the country. This loss is irreparable.
We convey our deep heartfelt condolence to the bereaved family- his wife and his sons, particularly Chirag Paswan, Member of Parliament who carries his torch in public life. We remain with them and the cadres of LJP at this time of grief.
Salute to Ram Vilas Paswanji, Salute!
K. Veeramani
President Dravidar Kazhagam
Chennai
08.10.2020