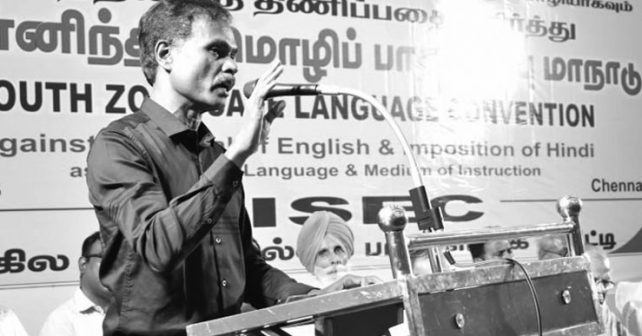 Against:
* Removal of English
* Undermining of Mother Tongues &
* Making Hindi the sole Official Language and Medium of Instruction
Once again the Union Government has stirred up the hornet's nest! The Parliamentary Committee on Official Language has made several disastrous recommendations! It wants to do away with the use of English and undermine the development of all other mother tongues. This is being contemplated with the aim of making Hindi the sole official language and Medium of Instruction. Already, educational institutions under the Union government have made learning Hindi compulsory. Now measures are being initiated to impose Hindi as the Medium of Instruction in medical and engineering courses, in IITs, IIMs, AIIMS, Central Universities and Kendriya Vidyalayas. Conduct of competitive examinations for Central services only in Hindi is on the anvil. Having Hindi as the sole official language in a multi lingual country would give citizens whose mother tongue is Hindi an unfair advantage over citizens in South and Eastern India for whom Hindi is the second or third language. Language proficiency plays an important role in examinations for selection for Central Services and persons not proficient In Hindi would suffer a huge disadvantage. This is discriminatory.
It is our considered view that in a multilingual society like ours, there cannot be a single official language for the entire country. It is for this reason that 22 languages of India have been accorded equal status in the Eighth Schedule. As far as the inter -state link language is concerned, English has already emerged as the lingua franca of our country. As a highly developed language, English not only serves as our window to the world's up-to-date knowledge in all disciplines but it is also helping the development of all Indian languages including Hindi. It should not be forgotten that the pioneers of our Renaissance and freedom struggle came into contact with modern scientific, secular and democratic ideas through English. It helped in developing our native languages and also unified the country in fighting against British rule and feudal backwardness.
In fact teaching in the medium of respective mother tongues from primary to the highest possible level is of paramount importance for the mental and intellectual development of students. At the same time. we cannot ignore the reality that teaching and learning through mother tongues at higher education and research levels is still difficult because advanced reference books and important journals are available in English only, and sincere and adequate steps to translate them and create adequate infrastructure have not been taken by the state and union governments over the years since Independence. In this situation we feel, imposition of Hindi will be disastrous even for students of Hindi speaking states. They will be deprived of learning English and access to world knowledge. They will be at a disadvantage in getting jobs outside their states or outside India!
Ignoring all these hard realities, forcing the people to adopt Hindi as the sole official language and Medium of Instruction is surely discriminatory, highhanded and politically motivated. It serves no other purpose than securing electoral dividends and bringing fissures among the people by fomenting linguistic majoritarianism and linguistic fanaticism. At such a critical juncture, it is heartening to note that the All India Save Education Committee is mobilizing public opinion against this disastrous language policy of the Union Government. It is also demanding the continuation of the scientific and time tested Two Language Policy – Mother Tongue and English.
As a part of this campaign, a South Zone Save Language Convention and a demonstration was organized by the six South Indian States. It was held on February 17, 2023 in Chennai.
The convention was presided over by Prof. L. Jawahar Nesan, former Vice-Chancellor, JSS Technological University, Mysore and inaugurated by Prof. Dhruva Jyothi Mukherjee, an eminent geologist from University of Kolkata.
The guest speakers were V.Kumaresan from Dravidar Kazhagam and Joint Editor of The Modern Rationalist English monthly, Prof. R.Murali, former Principal, Madura College, Madurai, BRP Bhaskar, Senior Journalist, Kerala, Prof. A. Chandrasekar, former Principal, Government Degree College, Andhra Pradesh, Prof. Tarun Kanti Naskar, General Secretary, All India Save Education Committee (AISEC), Prof. Allamprabhu Bettaduru, retired Principal & President AISEC, Karnataka, Dr. Maria Joseph M Mahalingam, Secretray & Correspondent, Loyola College, Vettavalam Tiruvannamalai, Prof. A. Karunanandan, renowned Historian, Tamil Nadu.
The messages for the convention sent by Asiriyar Dr. K.Veeramani, President, Dravidar Kazhagam, Prof. Sachidananda Sinha, retired Professor of Jawaharlal Nehru University, New Delhi and Prof. V. Venkatraman, former Principal, Raju's Arts and Science College, Rajapalayam, Tamil Nadu were read.
Asiriyar Dr. K. Veeramani's
Message of Greetings
We are glad that a South Zone Save Language Convention is being organized with the initiative of All India Save Education Committee (AISEC) at Chennai.
Language is the fundamental aspect in the cultural identity of people. India being a multilingual subcontinent cannot be ordained with one language i.e., Hindi as official language with special privileges. We are serving as an organization, founded by social revolutionary Thanthai Periyar. We have been opposing the imposition of Hindi since 1926, even prior to independence.
The Indian Constitution comprises 22 languages in its VIII Schedule and all the languages must be made official languages except Sanskrit which is not spoken at all. The privileges given to Hindi under the Constitution must be withdrawn and all the languages must be conferred with equal status as official languages and English as the official link language among all the States.
The latest move of the Union government to replace English with the respective mother tongue is nothing but a strategic step of the saffron forces to make the country as One Nation – One Language (Sanskrit – through Hindi in Devanagari script). It is nothing but Anti-Constitution and Anti-Federalism. The oneness of the people must be brought about by the harmonious unity of all the languages spoken by the people of the country.
Tamil Nadu is the only State adhering to the TWO Languages Policy of Mother Tongue and English, for more than five decades under the Dravidian Model rule. The State has not lost anything significant on the development side. In fact, it is pioneering on many fronts, especially in education compared to other States.
The Two Language Policy must be made the National Language Policy for which we have a long way to go. This convention, we hope, would ignite that spirit in everyone to mobilise public opinion throughout the country. The ultimate sovereignty rests with the people of the country. Two Language Policy with due Constitution Amendment could be possible with peoples' mandate.
We wish the Convention a great success!