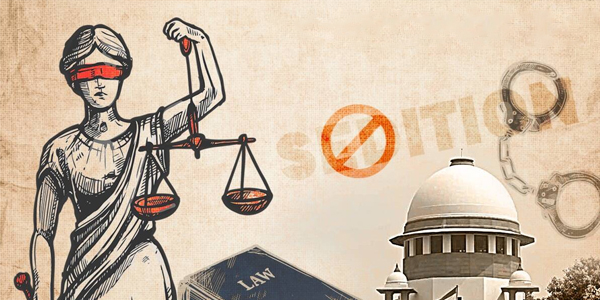 nietzsche
The Supreme Court Bench led by Chief Justice N.V. Ramana was hearing the petition seeking to quash the colonial sedition law. In response to the notice issued to the Union government, the court had stated that the discussion whether sedition law should survive in the Indian Penal Code or not – is consuming 'more time'. At the last hearing the court directed the government to file a counter affidavit without fail, postponing the case for May 5.
The government stated in its filed affidavit that the sedition law has to continue. In respect of instances of abuse of the sedition law, the remedy can be provided on a case to case basis. In the affidavit it was stated that the 1962 Constitution Bench judgment of the Supreme court (Kedar Nath case) had allowed Section 124A (sedition) to continue to be part of the Indian Penal Code and it is a binding one which need not be reconsidered.
A clutch of petitions by senior journalists and prominent bodies and personalities had challenged the legality of the colonial law. It was argued on their behalf that the sedition law is being rampantly misused by the government to curb fundamental rights of life, dignity, personal liberty and the freedoms to protest and dissent. The Kedar Nath judgment had only covered how sedition law affected free speech and expression enshrined in Art.19(1)(a) and did not touch upon how the provision would snuff out the right to life (Art.21) and right to equal treatment (Art.14).
As an interim action, the Supreme Court suspended pending criminal trials and court proceedings under Sec.124A of the Indian Penal code. It allowed the Union of India to reconsider the British-era law. Meanwhile, the court gave the Union of India liberty to issue a directive to States and authorities to prevent the continued misuse of the sedition law. The court's directions would hold until further orders.
The direction of the apex court is a welcomable one that puts off the operation of colonial law and prevents its misuse by the authorities.
Dravidar Kazhagam welcomed the move of the Supreme Court. Its President Dr. K. Veeramani has commented that everyone with a democratic spirit would find the decision commendable. He has conveyed his regret too that even after 75 years of Independence, the country has not delinked itself from the worn out shackles of many of the colonial laws. If we are relieved even from all such outdated laws, a new era would certainly dawn, according to Dr. K. Veeramani.