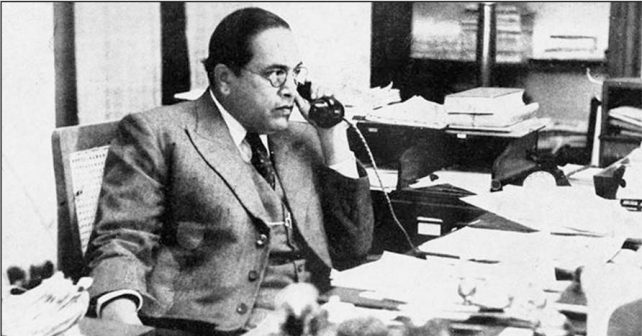 Far from being ashamed of untouchability, the Hindus try to defend it. The line of their defence is that the Hindus have never upheld slavery as other nations have done and that in any case, untouchability is not worse than slavery. This argument was used by no less a person than the late Lala Lajpat Rai in his book called 'Unhappy India'. It would have been unnecessary to waste one's time in refuting this countercharge had it not been that on account of its plausibility the world at large not having witnessed anything worse than slavery is likely to believe that untouchability cannot be worse than slavery.
The first reply to the counter-charge is that it is quite untrue that slavery was not recognised by the Hindus. Slavery is a very ancient institution of the Hindus. It is recognised by Manu, the Hindu law-giver and has been elaborated and systematized by the other Smriti writers who followed Manu. Slavery among the Hindus was never merely ancient institution which functioned only in some hoary past. It was an institution which continued throughout Indian history down to the year 1843 and if it had not been abolished by the British Government by law in that year, it might have continued even today.
As to the relative merits of slavery and untouchability, the best way to meet the counter-charge is to compare and contrast untouchability with slavery as it existed in ancient Rome and in modern America.
What was the de facto condition of the slaves in the Roman Empire? The best description I know of is to be found in Mr. Barrow's Slavery in the Roman Empire. Says Mr. Barrow:
"Hitherto, it is the repulsive side of household slavery that has been sketched. There is also another aspect. The literature reveals the vast household as normal. It is, of course, the exception. Large slave staffs undoubtedly existed, and they are generally to be found in Rome. In Italy and the Provinces there was less need of display; many of the staff of the Villa (Country house in Continental Europe) were engaged in productive work connected with land and its produce. The old-fashioned relationship between foreman and slave remained there; the slave was often a fellow worker. The kindliness of Pliny towards his staff is well known. It is in no spirit of self-righteousness, and in no wish to appear in a favourable light in the eyes of the future generations which he hoped would read his letters that he tells of his distress at the illness and death of his slaves. The household (or Pliny) is the slaves' republic. Pliny's account of his treatment of his slaves is sometimes regarded as so much in advance of general or even occasional practice as to be valueless as evidence. There is no reason for this attitude.
From reasons both of display and genuine literary interest, the rich families attached to their households, slaves trained in literature and art. Clavisices Sabinus is said by Seneda to have had eleven slaves taught to recite Homer, Hesioid, and nine lyric poets by heart. 'Book cases would be cheaper', said a rude friend. 'No, what the household knows the master knows' was the answer. But, apart from such abuses, educated slaves must have been a necessity in the absence of printing;…. The busy lawyer, the dilettante poet, the philosopher and educated gentlemen of literary tastes and need of copyists and readers and secretaries. Such men were naturally linquistic also; a librarius who dies at the age of twenty boasts that he was 'literatus Graecis Latinis'. Amanuenses were common enough; librarians are to be found in public and private libraries…. Shorthand writing was in common use under the Empire, and slave Notarii were regularly employed. Many freemen, rhetoricians and grammarians are collected by Snetonius in a special treatise. Verrius Flaccus was tutor to Austus's grandsons, and at death was publicly honoured by a statue. Scribonius Aphrodisius was the slave and disciple of Orbilius and was afterwards freed by Scribenia. Hyginus was librarian of the Palatine Library, in which office he was followed by Julius Modestus, his own freeman. We hear of freemen historians of a slave philosopher who was encouraged to argue with his master, friends of slaves and freed architects. Freemen as doctors occur frequently in the inscriptions, some of them specialists, they had been trained in big households as slaves, as is shown by one or two examples; after Manumission they rose to eminence and became notorious for their high fees."
The tastes of some section of society demanded that dancers, singers, musicians, montebanks, variety artists, athletic trainers and messieurs should be forthcoming. All these are to be found in slavery, often trained by teachers who had acquired some reputation.
The age of Augustus was the beginning of a period of commercial and industrial expansion….slaves had indeed been employed (in arts and crafts) before, but the sudden growth of trade…. their employment in numbers that would otherwise have been unnecessary. Romans engaged more freely and more openly in various forms of commercial and industrial venture. Yet, even so, the agent became more important, for commercial activities became more widespread; and such agents were almost necessarily slaves…. (this is so) because the bonds of slavery (are elastic). (They could be) so relaxed as to offer an incentive to the slave to work by the prospect of wealth and freedom, and so tightened as to provide a guarantee to the master against loss from the misconduct of his slave. In business contracts between slave and master or third person seem to have been common, and the work thus done, and no doubt, the profits were considerable…. Renting of land to the slave has already been noticed…. and in industry much the same system was used in various forms; the master might lease a bank, or a business of the use of a ship, the terms being a fixed return or the slave being paid on a commission basis.
The earnings of the slave became in law his peculium was saved it might be used to a variety of purpose. No doubt in many cases this fund was expended in providing food or pleasure. But peculium must not be regarded merely as petty savings, casually earned and idly spent. The slave who made his master's business yield profits, to his own profit too, very often, had a keen sense of the best use to make up his own money. Often he reinvested it in his master's business or in enterprises entirely unrelated to it. He could enter into business relations with his master, from whom he came to be regarded as entirely distinct, or he could make contracts with a third person. He could even have procurators to manage his own property and interests. And so with the peculium may be found not only land, houses, shops, but rights and claims.
The activities of slaves in commerce are innumerable; numbers of them are shopkeepers selling every variety of food, bread, meat, salt, fish, wine, vegetables, beans, aupine-seed, honey, curd, ham, ducks and fresh fish; others deal in clothing—sandals, shoes, gowns and mantles. In Rome, they plied their trade in the neighbourhood of the Circus Mamimus, or the Porticus Trigemimus; or the Esquiline Market, or the Great Mart (on the Caolian Hill) or the Suburra….
The extent to which slave secretaries and agents acted for their masters is shown very clearly in the receipts found in the house of Caecillius Jucundus at Pompei.
That the State should possess slaves is not surprising; war, after all, was the affair of the State and the captive might well be Stateproperty. What is surprising is the remarkable use made of public slaves under the Empire and the extraordinary social position occupied by them….
"'Public slave' came to mean before the Empire a slave of the State employed in its many offices, and the term implied a given occupation and often social position. The work of slaves of the State, slaves of the townships, and slaves of Caesar comprises much of what would now fall to parts of the higher and the whole of the lower branches of the civil services and of the servants of Municipal Corporations, working both with head and hands…. In the subordinate levels (of the Treasury) there worked numbers of clerks and financial officers, all freedmen and slaves. The business dealt with must have been of vast range…. The Mint…. the immediate head was a knight, in charge of the minting processes…. a freedman was placed; under him served freedmen and slaves…. From one branch of State service, at any rate, slaves were rigorously excluded, except on one or two occasions of exceptional stress. They were not allowed to fight in the Army because not thought worthy of honour. Doubtless other motives were present also; it would be dangerous experiment to train too many slaves systematically in the use of Arms. If, however, slaves served rarely in the fighting line, they are regularly to be found in great numbers behind it employed as servants, and in the commissariat and transport. In the fleet slaves were common enough."
Source: Dr. Babasaheb Ambedkar Writings and Speeches Vol.5. published by Education Department, Government of Maharashtra, 1989