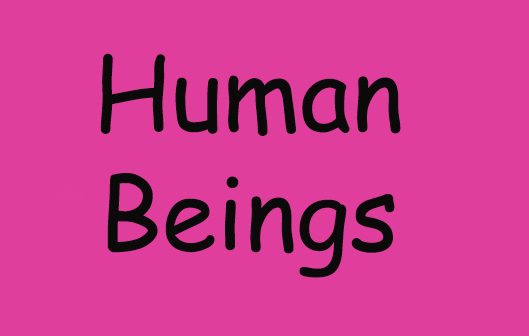 Human beings are born pretty much alike and grow in the similar way. But, a section of people are active and more inquisitive. They improve their knowledge by their own effort. It reflects on their conduct and character. Their viewpoint and outlook become rational and sensible. Consequently, take decision based on reason. They don't give much importance to traditional beliefs and customs. In this way, they slowly move away from the tradition bound mass.
Philosophers state that the independent thoughts of a few individuals are the fundamental cause of all good changes in all societies. Thinking individuals are eager to learn and change their ideas based on reason. They themselves critically analyze the values they follow and understand the reasons for classifying certain activities as right and wrong. This clear understanding motivates them to do good courageously and resist the evil boldly.
Sociologists assert that most of the well informed and thinking people abide by moral values willingly. They behave as responsible citizens. Those who fail to increase their knowledge and those who are reluctant to think independently remain ignorant. Some of them become criminals.
The inferior people are those who don't abide by most of the moral values. They are very selfish. They are fanatic in many matters. Their behavior is a nuisance to the society. They become harmful to the well-being of the people and society either directly or indirectly.
The Chinese Philosopher and moral preacher Confucius (551-479 BCE) discusses morals in detail. He defines the core principle of the conduct for life in one sentence. That core principle is 'One should not do to others what one does not want others to do to him'. He also offered a one-word definition and that word is 'reciprocity' (Reciprocality).
Similarly, Confucius defines clearly who are superior and inferior people. His definitions are worth knowing because they enlighten clearly in the values that are to be followed to lead a sensible and meaningful life. A few of his important definitions are the following:
The superior man understands what is right; the inferior man understands what will sell.
The superior man loves his soul; the inferior man loves his property. The superior man always remembers how he was punished for his mistakes; the inferior man always remembers what presents he got.
The superior man is liberal towards others' opinions, but does not completely agree with them; the inferior man completely agrees with others' opinions, but is not liberal towards them. The superior man is firm, but does not fight ; he mixes easily with others, but does not form cliques. The superior man blames himself; the inferior man blames others.
The superior man is easy to serve, but difficult to please, for he can be pleased by what is right; and he uses men according to their individual abilities. The inferior man is difficult to serve, but easy to please, for you can please him by catering to his weaknesses without necessarily being right, and when he comes to using men, he demands perfection.
The superior man can be placed in an important position with large discretionary powers, but not in a petty job. Inferior man cannot be put in an important position with great discretionary powers.
The superior man is not one who is good for one particular kind of position. The superior man is broad-minded towards all and not a partisan; the inferior man is a partisan, but not broad-minded towards all. The superior man also falls with difficulties. Even during that period, he does not do immoral activities. The inferior man, if he falls into difficulties, he is likely to do anything.
The superior man attends to the spiritual things and not to his livelihood. He attends to his studies and finds riches in it. The superior man does not worry about his poverty, but worries about spiritual things.
The superior man is always transparent and impartial and at ease with himself or others; the inferior man is always worried about something.
The superior man develops upwards; the inferior man develops downwards. The superior man is dignified, but not proud; the inferior man is proud, but not dignified. The superior man goes through his life without any one preconceived course of action or any taboo. He merely decides for the moment what is the right thing to do.
The superior man does not insist on good food and good lodging. He is attentive to his duties and careful in his speech and he finds a great man and follows him as a guide.
The superior man hates those who, in the position of inferiors, like to malign and spread rumors about those in authority. In addition, he hates the wily persons who pretend to be honest gentlemen.
Confucius, like Buddha, made no claim that he was inspired. He refused to deal with questions concerning God, the life after death and the unseen world. Unlike many religious teachers, he declared that a saintly man ought to take part in wordly affairs. He said that it is impossible to withdraw from the world and associate with birds and beasts that have no affinity with us.
Identical to Confucius (551 – 479 BCE), in India, Mahavira (599 – 527 BCE) and Gautama Siddharta Buddha (563 – 487 BCE) preached morals. In south India, Thiruvalluvar gave 'Thirukural' during about first century and in it he emphasized only morals. All these moral preachers and Greek philosophers did not say anything about God. Secondly, they did not tell us to offer prayers or to perform any ritual for the imaginary 'God'. Thirdly, they said nothing about judgment day, hell and heaven i.e. life after death.
When the followers of Buddha asked him repeatedly about after life, he replied that he does not know anything about past life and life after death. Knowing them is humanly impossible. Everything said about the past life and life after death are mere human imaginations. Only the present earthly life is real. So, it is our duty to live a meaningful life. For that, Buddha says every individual needs to be a thinking individual.
By right aim, right effort, right conduct and by controlling selfishness anyone can become a wise and superior human being.
Buddha assured that if we live a virtuous life, we will get a place in heaven, if there is one such place. Wisdom considers this reply as a wise one. So, let us lead a virtuous life in this world.