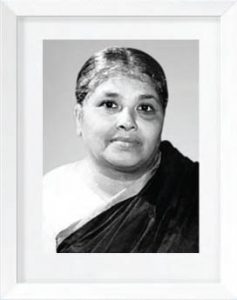 E.V.R.Maniammai, wife of the great revolutionary Periyar E.V.Ramasamy headed the  Dravidian Movement from 1973 after the demise of Periyar.
In 1958, DK cadres went on agitation towards the abolition of caste and were arrested. Two people died in prison on March 8th and 10th. The Jailor of the Prison refused to hand over the dead bodies. E.V.R.Maniammai represented it to the then Chief Minister Thiru.K.Kamarajar and brought the dead bodies from the jail and led the funeral march.
On 19th January 1958, for an article written in "Viduthalai" (Liberator) published by Dravidar Kazhagam, as the Editor and Publisher, E.V.R.Maniammai was arrested and kept in prison for one month.
After the demise of Periyar, E.V.R.Maniammai headed the Dravidar Kazhagam, the largest atheist movement of the world.
On 3rd April 1974, she led the agitation before the Post Office in Chennai for appointment of Archakas in Temples from all castes within the religion.
On 25th December 1974, she conducted the "Ravan Leela" and burnt the effigy of Rama, in retaliation to the "Ram Leela" conducted in Delhi, depicting Ravan as the Asura. She was ordered imprisonment for six months.
On 30th October 1977 shown black flag to Indira Gandhi condemning the undemocratic misdeeds during the period of Emergency and was arrested. Prior to her death, she created a Trust for the purpose of Education and transferred all her personal wealth into the Trust. This trust created in 1974 has been today running nearly 40 educational institutions mostly for women. E.V.R.Maniammai was born on 10th March (1920) and died on 16th March (1978). It is a coincidence that on 10th March, great Savitribai Phule was born.
Let the country know E.V.R.Maniammai, a brave women who faced the Emergency, conducted agitations for caste abolition, created a trust for educational institutions and above all, headed the world largest atheist self respect movement.