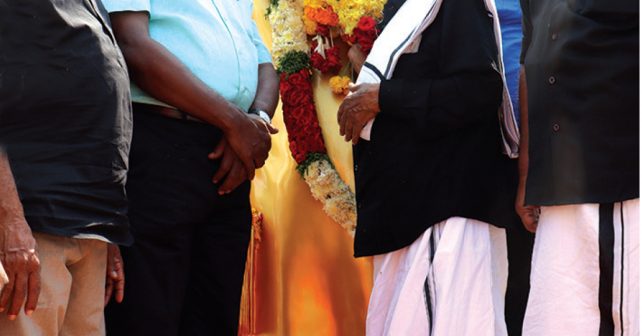 12th February 2023 would for ever be a significant day in the history of Social Justice. The statue of B.P. Mandal, the first one built in India, installed at the cine square at Guntur in the state of Andhra, was unveiled on this very special day by Asiriyar K. Veeramani, the President of the Dravidar Kazhagam (DK).
Bindeshwari Prasad Mandal, popularly known as B.P. Mandal, was the Chairman of the National Backward Classes Commission. He had recommended for the reservation for the Backward Classes in central services and admission in educational institutions through his report which later scripted history as the 'Mandal Commission Report.'
By the collective efforts of a large number of the suppressed backward class people, this statue was built and installed in Guntur, Andhra Pradesh.
The dignitaries – participants:
* C.V. Gopalakrishna- the Minister for the Andhra State Backward Classes Welfare Department.
* Cap. Ajay Singh Yadav- the Former President of the All India Backward Classes Association.
* P.Masthan Rao, Member of Parliament.
* Raghurama Reddy Former Revenue Minister of the undivided State of Andhra and the former President of the Backward Classes Commission of the State of Andhra.
* Dr. Thol Thirumavalavan, M.P. and the President of the VCK party, Tamil Nadu.
*  Prof. Suraj Mandal, the grandson of B.P. Mandal
The former and the present members of the Andhra State Legislative Council and Assembly, the Mayor of the Municipal Corporation of Guntur and many other dignitaries participated in the statue unveiling event.
Social Justice Conference
The unveiling of the statue by Asiriyar K. Veeramani was followed by a mega conference on 'Social Justice'. The inaugural event was presided over by Thanga Krishnamurthy M.L.C. the President of the "B.P. Mandal Statue Installation Committee" and the whip the ruling party of the State Legislative Council of Andhra. The secretary of the Committee, Dr. Ala Venkateswaralu delivered the Welcome Address.
The Plenary Speech
by Asiriyar K. Veeramani
Reservation for the Backward Classes has been for decades a back-burner issue. A commission was constituted with Kaka Kalelkar as the chairman to achieve the objective but in vain. Bindeshwari Prasad Mandal, popularly known today as B.P.Mandal, was the chairman of the second commission. After a decade long struggle by the Dravidar Kazhagam (DK) and stalwarts like Chandrajit Yadav, Ram Vilas Paswan and many other warriors of Social Justice, the report submitted by the Mandal Commission led to the ultimate achievement. The recommendation of the commission was atlast ratified and 27 per cent reservation was granted for the backward classes in Union Government sector jobs and later in 2006 in central educational institutions. Several Backward Classes forums and outfits across the State of Andhra had formed a committee to set up the statue of B.P. Mandal as a mark of respect and gratitude. By collective efforts, a bronze statue of B.P. Mandal was setup at cine square in Guntur City, the State of Andhra. Asiriyar K. Veeramani, the president of the Dravidar Kazhagam was invited to unveil the statue. He visited Guntur along with the Treasurer of the DK, V. Kumaresan and Secretary, External Affairs, G. Karunanidhy. After unveiling the statue, Asiriyar delivered the plenary speech, as follows:
Partial Achievement
"Dear friends, we succeeded in getting the recommendation for 27 per cent reservation but the implementation in full is still pending. This is the unpalatable truth. Even for this partial achievement, we had to conduct 42 conferences and 16 massive agitations. Following our inquiry as per the Right to Information Act, only 12 to 14 percent has been actually offered in practice. 27 per cent is yet to be fully awarded. The upper caste elements continues to exploit and dominate us."
"We had been fighting uniformly for SCs, STs and OBCs, aiming at uniting them all and acquiring reservation altogether for them. The apex court ordered not to exceed 50 percent reservations. Since this 50 percent includes 22.5 percent for the SCs and STs, we fought for the remaining 27 per cent for the backward classes. This is the explanation for the 27 per cent issue. It is noteworthy that 50 per cent restriction has nowhere been adumbrated in the Constitution. And yet the order was unjustly passed by the apex court."
The role of the DK Movement
"When Devraj Urs was the Chief Minister of Karnataka we invited him to Chennai and organized a grand seminar to urge implementation of Mandal Commission recommendation. "B.P.Mandal visited Tamil Nadu when M.G.Ramachandran was the Chief Minister. In 1978, we accorded a warm welcome to Mandal and other members of the Commission at Periyar Thidal in Chennai, the Headquarters of the Dravidar Kazhagam. Addressing the audience at the venue, Mandal requested us to strengthen the hands of all the like-minded warriors and see that the recommendations of the Commission are implemented. He recalled how the former report of the first Kalelkar Commission was deeply buried by vested interests. Mandal urged us to be alert and prevent a similar sabotage of the Second Commission's report."
Our quick retort
"The upper caste elements were as usual trying to thrust a spoke in the wheel. A newspaper owned by a brahminist management wrote in its editorial- "Bury the Mandal (Commission report!)" We quickly retorted and shrieked – "Hurry the Mandal (Commission report!)" We implied that it would come back to life like phoenix, even if they set it on fire. Our relentless fight yielded fruitful result."
"Mandal Commission report was submitted in 1980 but we had to wait for ten long years for its implementation. Our united fight helped us succeed. All the other states too extended their co-operation for the achievement. No power on earth could bury the report."
We demand 52 per cent
"Recently the Union Government granted 10 per cent reservation under Economically Weaker Section (EWS), to the so called 'poor' among the upper castes. Hence, the 50 per cent reservation slab has risen to 60 per cent. Therefore today at this conference in Guntur, I urge you all to fight for enhancing the 27 to 52 per cent for the backward classes. Let the 50 per cent slab rise for the welfare of the suppressed backward classes as a mark of social justice. Let there be fair treatment for all."
"Though the already ratified 27 per cent has also not been fully granted so far, even the other 23 per cent has not yet benefited the suppressed SC and ST people. In brief, the opponents of social justice have thus complicated and messed up the entire reservation policy."
Mandal's will and legacy
"B.P. Mandal always used to stress equality and unity. We stand united today here since we remain undivided. This is very important. This unity should be everlasting. All the downtrodden people of various castes and classes should raise voice for one another without any disparity. Mandal insisted on this oneness and we should treat his will as his will of legacy.
Only after the Mandal commission report, the backward class candidates were able to find placement in civil services as I.A.S. and I.P.S. officers. They were able to find placement even in banks. But the Union Governemt is bent upon privatizing banks and establish corporate culture all over the country. This has now threatened even the 27 percent reservation quite strategically. Hence, we should all urge the government to grant reservations even in private sector establishments."
Appointment of judges
"The High Courts and the Supreme Court time and again accept certain issues as legally valid and reject certain issues as illegal. But in the matter of the appointment of judges, reservation policy is not being adopted as per the laws."
"This conference should resolve that reservation policy must be adopted henceforth invariably even in the appointment of judges in all the High Courts and in the Supreme Court. Our collective efforts would certainly help us achieve this objective. Let us all fight with unflinching resolve."
"We, from the land of Periyar, always assure our co-operation to all of you. Never bother about the toxic forces which try to divide you. Make stronger the bond which unites you. This is my message to you today. My best wishes to all the organizers. Thanks to all the comrades and friends."
All the dignitaries and participants took the oath for Social Justice. It was resolved to achieve our objective by united strife.
Compiled by nietzsche