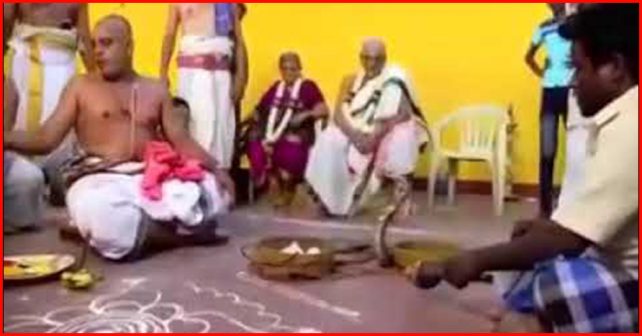 A Brahmin temple priest in Cuddalore, Tamil Nadu has been arrested for performing Nagapooja using a spectacled cobra, which is a protected species as per Wildlife Protection Act. The priest, Sundaresan was conducting the eighty first birth day celebration of his parents in the ritualistic manner, and he made the snake pooja part of it.
The episode had been videoed and posted on the social media. The video shows the aged couple seated on chairs, surrounded by relatives, all of them scared at the sight of the cobra.
The Brahmin priest, who is visibly scared, goes on with the pooja since the snake charmer is close by. There were also occasions when the snake hissed and made biting moves.
Someone having been forwarded the videos to the forest officials, they booked both the priest and the snake charmer under the relevant act for having been in possession of a protected wildlife species. The priest has been arrested while the snake charmer is absconding.
Is the snake having the last laugh?