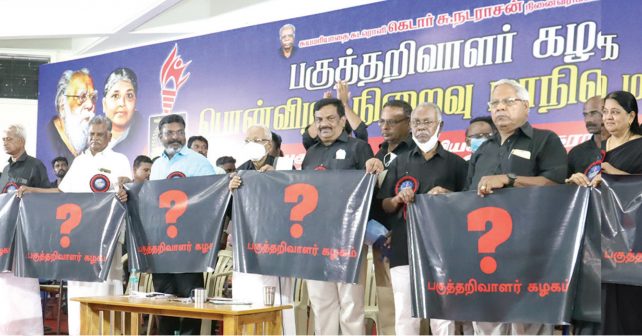 The Rationalists' Forum was established in 1970. It completed 50 years in 2020. Owing to the COVID-19 pandemic disaster the Golden Jubilee could not be celebrated. To commemorate the completion of 50 glorious years, the State conference of the Forum was held in Gingee (Senji – Villupuram District) – Tamil Nadu on Sunday – 19th June 2022. 12 significant Resolutions were moved in the conference. They were unanimously passed and adopted as listed here below:
Superstition Eradication Bill
1. RESOLVED to urge the Union Government and the Government of Tamil Nadu to form an exclusive department to develop scientific spirit among people. In 2010, rationalist Dr. Narendra Dabolkar framed in Maharashtra, a superstition – eradication draft bill. It was passed in 2013 after his assassination. Similarly, during the rule of former chief minister Siddharamiah in Karnataka, a superstition – eradication Bill was framed in 2017. It was adopted later only in 2020. Hence the conference stressed on the earliest adoption of the Bill by the Government of Tamil Nadu.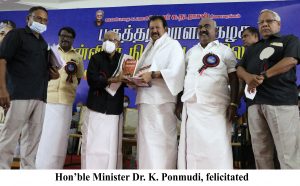 Ban of Religious festivals at Govt. Offices
2. Secularism is stressed upon in the Constitution by its preamble itself. At this juncture, building temples on Government workshop yards and celebrating religious festivals like Ayuda pooja is against law. The Union government and the State government should take a firm stand in this regard and prevent them. It is RESOLVED to urge them to impose a ban and prevent. The conference also stresses upon the Union Government and the State Government that it is against the principle of secularism to perform ritual rites while constructing government workshops and office buildings.
Removal of unauthorised temples on road side
3. The number of temples built so far in Tamil Nadu, without proper sanction and permission is 77,450. They must be removed as per the judgment of the Supreme Court judges delivered on September 14, 2010. They had also stated clearly with emphasis that the chief secretaries of the State Government who fail to implement this will have to appear in person at the Supreme Court. But this has not been implemented so far. This must be viewed as contempt of court. Hence it is RESOLVED to urge the officials concerned to act according to the verdict of the Supreme Court.
On March 26, 2022, Justice N. Anand had clearly specified in his verdict at Chennai High Court that even if god himself has encroached upon a public place, it must be demolished and removed. This conference welcomes it and RESOLVES to strongly urge the Union government and the State government to initiate action accordingly.
Exclude fables and myths
4. RESOLVED to urge the Union Government and the Government of Tamil Nadu not to include fables from ancient scriptures and mythologies in curriculum and syllabus meant for students. This is urged upon since it would make our students regress in life and move in the wrong direction.
Mention oppressed identity instead of caste
5. On the applications pertaining to reservations, from the point of view of social justice, the applicants are expected to specify the name of their caste. It is hereby RESOLVED to urge the officials and Government authorities concerned to register them merely as SC/ST/OBC/BC/MBC or FC without insisting on specific names of castes.
Exclusive Police force to curb 'honour killing'
6. Several social service outfits have been striving to curb honour killings. Inspite of their efforts to propagate, the crimes continue. Hence, it is RESOLVED to urge the Union and the State governments to form a separate wing in the Police Department exclusively for this purpose and offer protection to the couples who get married resisting caste bias. In order to encourage intercaste marriages the children born to such parents may be granted intercaste-quota as a special privilege in reservations. This conference resolves to strive and achieve this objective.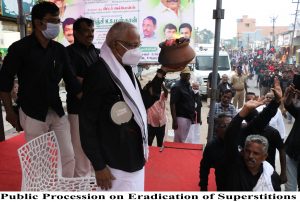 Article to Abolish Caste, not mere Untouchability
7. There is a dire need in our Constitution for an amendment to abolish caste itself totally instead of mere abolition of untouchability, it is RESOLVED by this conference, to urge the Union Government to take necessary steps for this amendment, since mere abolition of untouchability, as adumbrated in Article 17, would not solve the problem.
Prevent symbols of caste identity among students
8. In many of the educational institutions, boys and girls wear threads of various colours on their wrist as a sign of their caste. This must be prevented at any cost. It is RESOLVED to urge the Government of Tamil Nadu to curb this unacceptable practice by appropriate action.
Save time and get rid of unwanted rituals / festivals
9. Nearly 197 days are wasted every year by the people in the name of belief in god, superstitions, festivals, ceremonies, sacrificial rituals and pilgrimages. This leads to financial loss, waste of precious time and deterioration of rationalist thoughts. It is RESOLVED to urge the common public to delink themselves from all these shackles, in the interest of their welfare and advancement in life, by getting rid of every blind faith.
This Rationalists' Forum also resolves to expose tricksters who take gullible people for a ride in several ways. Rationalist activists and social reformers are requested to extend their helping hand to achieve this objective. It is also suggested to organise suitable programmes in educational institutions to inculcate scientific spirit in the student community.
Thanks to TN Government for 'Social Justice Day' & 'Equality Day'
10. RESOLVED to thank the Government of Tamil Nadu and Hon'ble Chief Minister M.K. Stalin for declaring the celebration of Thanthai Periyar's birthday (September 17) every year as 'Social Justice Day' and the birthday of Dr. B.R. Ambedkar as (april 14) 'Equality Day'. The conference conveys its gratitude and commends them whole heartedly.
Arresting superstitions in print & electronic media
11. The print and the electronic media have been misusing technological and digital developments by publishing and telecasting contents that abuse the intellect of the readers and viewers. This conference regrets to call it a kind of exploitation. They have been violating the Cable Television Network Rules, 1994, Section 6(1)j that clearly specifies that "No programme should be carried in the cable service which encourages superstition or blind belief".
Media should avoid telecasting programmes and commercial advertisements related to black magic effects, paranormal activities, voodoo tricks, fake gem stones, astrology and conjuring devices.
Article 51A(h) of our Constitution adumbrates that nourishing scientific spirit is one of the fundamental duties of Indian citizens. Hence it is RESOLVED to urge the print and electronic media to avoid these unfair, harmful activities and shift to contents that inculcate rationalist outlook and scientific spirit.
Ban the training camp of RSS in educational institutions
12. The RSS outfit was banned thrice by former Union Governments. Today it has started training people in educational institutions, Government and private sector offices. This must be prevented without fail by the present Union Government. The RSS coterie has been training people in violence and offensive attacks. It is RESOLVED to urge the Union Government to take immediate action and prevent such hazardous and nefarious activities. These training camps must be identified and banned forever.
The conference ended successfully when all the 12 resolutions were unanimously moved, passed and adopted.