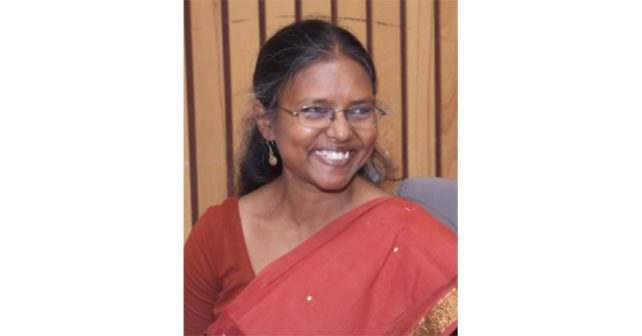 Dr. Sonajharia Minz, a tribal scholar from Jharkhand's Gumla district, a professor at JNU's School of Computer and System Sciences is appointed as Vice Chancellor of Sido Kanhu Murmu University, Dumka, Jharkhand.
Her appointment has both surprised and pleased the academia, considering the numerical odds — the latest All India Higher Education Survey in 2018-19 had shown that there are 33,403 Scheduled Tribe teachers all over India, of which only 13,574 are women. This fact is not lost on Minz.
"I am extremely happy to be appointed as a VC, but I also know how rare it is for a tribal woman to be elevated to such a post. First of all, there is no parity when it comes to women in academia, then it narrows down even further to tribal women," she told The Print. "It all depends upon the kind of access that a child gets in his/her early days that shapes their future," she added.
Discrimination in school : Minz's journey has been no bed of roses. In her school in Ranchi, she said, she faced discrimination from upper-caste teachers.
"My Sanskrit teacher once asked me how could I be good at Sanskrit. 'It's the language of the Aryans', she said, hinting that I am not one," Minz recalled.
"My maths teacher would tell me, 'you won't be able to continue with maths later on, switch to biology'," she continued.
In an interview with The Telegraph, Minz shared, "The maths teacher, who wasn't tribal, knew it was my strong subject and that I had scored 100 per cent thrice. Yet he told me not to study maths for graduation. That made me even more determined to study the subject further.
"I would hear all these remarks that my other classmates would not. When I was young, I did not realise why I was being targeted, but later on, it all started to make sense."Minz said her family left Ranchi to settle down in southern India because her father thought they will not be discriminated against. "Because of the way we looked, our appearance could have resonated more with people in south India, and my father thought we will not be discriminated against. Hence, before I started college, we moved to south India," she said.
Family Background, Studies and Career: Sonajharia Minz is the daughter of Nimal Minz, the famous freedom fighter of Jharkhand.  She studied Post Graduation in Mathematics from Christian College, Tambaram, Tamil Nadu. Later she did Master in Philosophy (M.Phil.) and Doctorate from JNU. Prior to joining as Professor in JNU, she had served as Assistant Professor at the Barkatull University, Bhopal, Madhya Pradesh and Madurai Kamaraj University, Madurai, Tamil Nadu. For the last 28 years she has been teaching in JNU besdides publishing many research papers. She has been the President of JNU's Teacher Association (JNUTA) also.