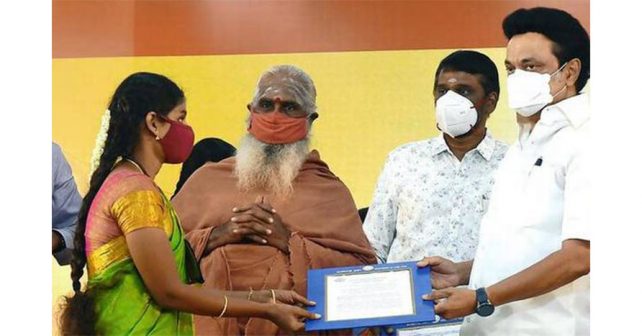 The beginning and the ultimate achievement are as follows in a chronological order:
08.10.1969: Thanthai Periyar's statement on Caste degradations.
20.10.1969: Agitation to enter the sanctum sanctorum of Rajagopalsamy Temple in Mannarkudi (Thanjavur district of Tamil Nadu) as per Periyar's announcement.
02.12.1970: Unanimous support for the enactment of law in Tamil Nadu Legislative Assembly.
March 1972: Stayed by the Supreme Court – 'Viduthalai' editorial on 15.03.1972 & 16.03.1972 under the caption – "Operation Success! Patient dead!"
03.04.1974: Peaceful agitations all over Tamil Nadu in front of post offices – led by E.V.R. Maniammaiar in Chennai.
31.05.1974: Black flag protest in Chennai when the Union Government Minister Raguramaiah arrived.
31.05.1974: Black flag protest when Union Finance Minister Y.B. Chawan arrived in Chennai.
24.09.1979: Commission constituted headed by Justice Maharajan –  G.O. No.1573 dt: 24.09.1979 to explore whether agamas are barrier for the appointment of archakas hailing from all castes.
24.08.1982: Agitation in front of 35 temples demanding ratification.
08.06.1984: The Report of Justice Krishnasamy Reddiar released the mode of appointment of archakas hailing from all castes (Gazette/No.339 dt:08.06.1984)
08.06.1984: The Government headed by the Chief Minister M.G.R. constituted a commission under Justice N. Krishnasamy Reddiar to train shortlisted people without caste discrimination for appointment as priests in temples.
1984: Following commission's recommendations the A.I.A.D.M.K. Government announced in the Legislative Assembly that a training school would be started in Palani temple.
09.04.1992: The Chief Minister J. Jayalalithaa announced in the Assembly that training for archakas would be given as per 69 per cent reservation.
10.05.2000: Agitation in front of 28 temples stressing appointment of trained archakas from all castes. Asiriyar Dr. K. Veeramani, President of Dravidar Kazhagam participated in Thiruvarur.
29.12.2000: Agitation all over Tamil Nadu in front of Hindu Religious and charity Endowment Offices. Asiriyar Dr. K. Veeramani and cadres arrested.
01.02.2006: Agitation all over Tamil Nadu with the same demand – ten thousand cadres arrested – Dravidar Kazhagam assured support in State Assembly elections to the party who promises ratification – the DMK offered the assurance.
23.05.2006: The D.M.K. Government issued the Government Order.
14.07.2006: Additional law, legislated during the DMK rule (Act 15/ 2006 dt: 14.07.2006).
14.07.2006: The recommendations of High Court Justice A.K. Rajan's Commission accepted (G.O. No.1/2007) Adi Saiva Sivachari Association and the Temple Priests       Protection Council moved the Supreme Court against the G.O. of the State for the interim stay for implementation.Another G.O. of the DMK Government (G.O.Dt:23.05.2006) verdict on 16.12.2015, after 9 years.
21.12.2015: Letter sent to C.M. J. Jayalalithaa on behalf of Dravidar Kazhagam – letters to the chief ministers of all the States.
18.04.2016: Agitation by Dravidar Kazhagam – 5000 cadres arrested.
07.10.2017: Asiriyar Dr. K. Veeramani's  statement demanding enactment of law, on a par with Kerala, for trained people hailing from all castes as temple archakas.
09.10.2017: Letter to the chief minister Edappadi Palanisamy.
26.11.2017: Rights for Archakas job for people of all castes – special conference held in Trichy.  (Caste Abolition conference held simultaneously in another venue.)
08.09.2018: The rights for all castes – first stage victory celebration in Mannarkudi.
21.08.2018: Special meeting convened at Periyar Thidal,  Chennai. Dr. K. Veeramani delivered a speech – Topic: "The rights of all castes to get appointed as temple archakas: What Next?"
14.08.2021: The Chief Minister of Tamil Nadu, M.K. Stalin, gave appointment to trained archakas.