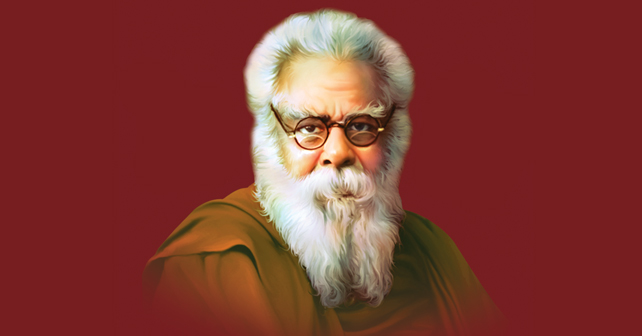 On 1st May, 1969, Thanthai Periyar delivered a public speech at Triplicane in Chennai, condemning the prevalence of untouchability in Tamil Nadu and many other states in the country. He stressed that this social evil cannot be eradicated without eradicating Brahminism. The content of his speech is in a nutshell as follows:
In our conference held in Chennai on 20th April, 1969 it was resolved that we should give top priority to the rooting out of our degradation. Who should rule us is a matter of secondary importance. However satisfactory an alien rule might be; caring for the welfare of people, Brahmins wish to topple the government and capture the rule. When we were under the British rule, Brahmins in the Congress wanted to topple it and establish home rule. Senior leader Sathyamurthy was in favor of Home rule but he never pointed out its advantages for the State.
Social evil continues…
The social evil, untouchability has been prevalent for thousands of years. It was not eradicated even when the British ruled India. Even after achieving Independence and declaring Republic, the evil has not been driven away though 22 years have passed since the English people had quit India. I urge you all to think about this. Why should we still endure the untouchability menace? How long would it prolong?
I am sure, present government in the State would do nothing to eradicate untouchability. It cannot be achieved through any article of our Constitution. We were all hopeful that it would be done by an alien rule but that hope was lost.
The pitiable untouchables could not get redemption in the British rule which lasted till 1947. We are ready to welcome any other alien rule too, if it can ward off this evil. It would be our duty to welcome and support such a savior.
Remedial Measures
Our people dislike rule by foreigners as if it is some contaminated food they are forced to eat. They consume fish, meat, chicken and pork but avoid beef. Pigs, fish, goats and hens eat many kinds of filthy substances but cows eat no such filth. People avoid beef believing blindly that it is against their religion and codes of scriptures.
Similarly, people wish their degradation ends and are wiling to do anything for that, but meaningless patriotism makes them shrink their face at alien rule. They have baseless fear over foreign rulers. What have they achieved so far by patriotism? Love and respect for our country have not annihilated our disgrace so far. Our patriotism has only brought us contempt and humiliation. We continue to be belittled and persecuted. Is it not high time our people woke up?
To annihilate untouchability completely we must give up our blind faith in God, religion, traditional customs, outdated scriptures and mythological fables. All these are to be thrown overboard. As long as they exist, untouchability cannot be eradicated. Unless we get rid of the present rule in Delhi and the Constitution followed, it cannot be curbed. Until Brahminist domination stays, untouchability too would stay steadily.
The present government is our own democratic rule. But it cannot annihilate untouchability. It cannot enact a law and legally ban untouchability. Our ministers have no right to solve this problem. If our State does it antagonizing the rulers in Delhi, they have the right to dismiss the State Government, using the power granted by the Constitution. Obviously, Our State Government can do nothing to annihilate untouchability.
Political Changes
… In my opinion, the ruling party should get the administration of Municipalities for smoother functioning without any intervention and hindrance. If Municipalities are captured by opposition parties, only mutual recriminations would be there. Time would be wasted in hooliganism, disputes and fights. Nothing fruitful can be achieved in a productive manner.
Hence, the election results are satisfactory. Besides convening meetings for celebration all over the State and conveying thanks to the public, our cadres should also commend the government headed by the Dravida Munnetra Kazhagam (D.M.K.).
The D.M.K. headed government must be insisted upon granting rights, posts and positions in employment to our people in reasonable proportions, according to the religion and caste-based yardsticks. Our cadres should give top priority to this aspect and keep persuading the government.
Prime tasks ahead
I would like to advise the ruling government to ignore petty issues and scandals pertaining to ministers, assembly members and other administrators. Some undesirable activities are quite common in a democratic rule. Much more serious issues need the attention of the rulers of the State. Welfare measures for the public must be given priority. The people whose mandate helped formation of the government must be cared for.
The people who helped to a large extent to win should get preference in all respects. The prime supporters deserve top priority in educational and employment opportunities, in a disinterested, impartial manner. The minorities should not enjoy privileges beyond the limit. The majority should not be denied their legitimate rights. They must get what they deserve. That is the true sign of democracy. Social justice and equality should never ever be compromised with.
Jobs related to the police department; constables to sub inspectors, should be offered to the Scheduled Caste candidates. No body else should be considered. Upper caste people would begin to respect them. Gradually, the degradation suffered by the Scheduled Caste people would vanish. They would be able, not to demand respect but command respect.
Arrogance punished
A rule which ignores the voters is condemned to perish. Ingratitude would eventually ruin the reign. The Congress fell because of its arrogance and audacity. It is like a sinking ship today owing to maladministration and misuse of powers. They ignored the majority that crowned them and showered favors on the minority. Underprivileged people who made them win by their mandate were treated like insignificant speck of dust. Sycophants and flatterers of the upper caste and other religions reaped a harvest of benefits poured by the Congress coterie. The rulers of the present government should carefully avoid the mistakes of the former rulers.
Revamping needed
Cases are pending in Madras High Court for 10 years and more. A personal case of mine remains unheard for nearly five years. If this is the condition in my case, imagine the plight of common public. One single high court is not enough for this large city. We need one more in Madurai, Trichy or Coimbatore. When there is just one in Madras, a common man from Kanyakumari has to spend much and travel a long distance if he has a problem to be solved at a court. He may have to come again and again three or four times which he cannot afford. He should have an easy access to a court. There are too many other hurdles like regular extract of fees, greasing the palms of the clerks, affidavit expenses etc; – A rich man can manage. What about a poor citizen? The Supreme Court located in Delhi is another problem. One has to travel more than 2000 miles. We need revamping in all spheres in Indian Courts.
Justice Delayed
Too many sundry courts in a city causes confusion and discomfort. Why should we have two or three Sub-Courts, Munsiff Courts, additional courts etc; in one city? Too many cooks spoil the broth. Too many courts toss people like tennis balls. Poor people are baffled with swirling heads.
Justice delayed is justice denied. Pending cases cause inexplicable mental agony to the public. Steps must be taken for the disposal of cases within three months. Streamlining is required in the matter of court activities throughout the country. Cases pending for very long periods make people lose faith and confidence in the judiciary.
Inordinate delay in settling cases indirectly leads to a rise in crime-rate too. Instant Justice would instill fear in criminals. All the courts in our country need a face-lift, reconstruction, revamping and numerous changes.
Summing up
All these may seem to be a deviation from my central idea – Untouchability. My dear cadres, I mean to stress that Brahminist domination is the root cause of not only untouchability but also hundreds of other problems in society. If this domination is eradicated, all other problems would be solved with the passing of time.
(Courtesy: Viduthalai)
Translated by: M.R.Manohar