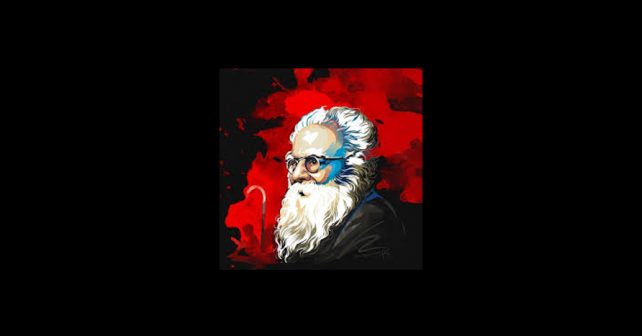 We never hold portrait unveiling events to smash coconuts and worship the great men and women. We do not beg them to forgive our sins. Nor do we seek favours in compensation. We know that those portraits have no power to perform miracles. We never urge people to carry such portraits in a procession or to install them in temples for worship. We are against such insane activities.
We unveil portraits of great people to help people know how selfless, magnanimous and noble those people were. We want everyone to learn unknown facts about the well – known people; about how they strove with their own efforts and sweat of brow without expecting anything in return. Today's youth should learn much about them. We believe that suchwell – known people would inspire the public and motivate them to follow in the footsteps of those noble men. People should realise that service to mankind becomes a crime when it becomes a paid labour. This is our purpose behind unveiling portraits. It is done to transmit humanism all around us. Unlike many sycophants who unveil portraits to flatter the kith and kin of the deceased, we unveil to propagate the glory of great men and create an impact on our people.
The greatness of people such as
Pitti Thyagarayar and King of Panagal
We have been unveiling at various places, portraits of Pitti Thyagarayar, King of Panagal and Dr.C. Natesan in order to inspire people and emulate them in ideals, thoughts and public services. Those noble men never deceived gullible people by promising them salvation through blind worship of Gods and Goddesses….
The great men whose portraits we normally unveil never wanted to be worshipped by people in temples or at home. They daringly opposed superstitious, outdated customs, traditional rituals and every kind of blind faith. They fought for the spread of humanism and equality as well as absolute social justice. Such revolutionaries are generally found to have been tortured by ignorant people. During their lifetime such truly great people have been unsung heroes, enduring intolerable persecutions. We unveil the portrait of such great men to reveal their nobility and transmit their virtues.
The present may condemn – but the future would commend!
The great Greek philosopher, Socrates was killed by poisonous hemlock because he preached the youth to ask questions and challenge fundamental beliefs. Gautam Buddha struggled to eradicate Aryan myths, but in vain….
During their lifetime these great men were not understood but today millions of people all over the world, follow their principles and ideals. Similarly, the great men cited by me may be rebuked by the world at present but the future awaits to understand and glorify them. It applies to us too. Our views, ideals and thoughts may be ignored and disliked by selfish lumpens today but the dusk of ignorance would fall tomorrow and the dawn of wisdom would certainly break. Ignorant mob may ignore us today but they would realise and repent tomorrow. Our services would reap benefits in future. This is our profound belief. Hence, we endure today all sufferings with unflinching resolve. We are sure to help and lead people to the zenith of wisdom. It is this unshakeable faith which makes us continue our selfless public services, despite all obstacles and hurdles.
The future of the flattered
The more we are hated by the ignorant mob, the more we realise the greatness of our noble services. But the small people eulogised by the people in the past, have now been forgotten.
The torch-bearers of the past
Anyone whose mind operates on a higher level of intellect, can understand that truly great people who are victims of hatred today are in fact the real torch-bearers for a prosperous tomorrow….
Truly great people never really die. They are sown like seeds to sprout again tomorrow in other forms. This is the significance of the unveiling of portraits by us.
Courtesy: 'Kudi Arasu', 10th January, 1948