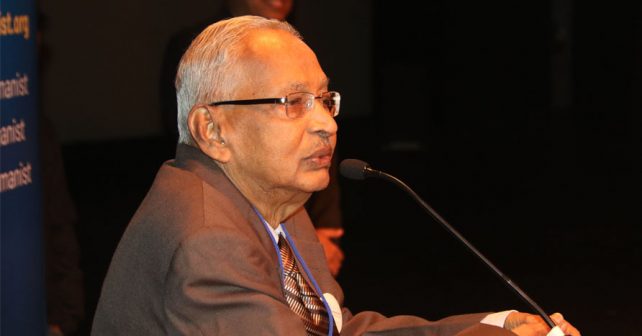 Palani Arangasamy
Neither a reputed writer nor a speaker I am, but a veteran teacher with more than four decades of collegiate teaching. Socio-political and historical events from the fifties of the twentieth century are green and alive in my memory. Random thoughts on regional, national and international events criss-cross with my mind either in a confab or in a comment on any current problem. With this long background, let me humbly submit that nowhere did I see any octogenarian is robust in health and simultaneously active in disseminating rationalistic thoughts among the intelligentsia and also among the literate commoners except Dr. K. Veeramani.
Hundred thousand meetings in the Seven decades past, he would have addressed- congrats to wedded couples, comment on topical events, condoling the expired, felicitating celebrities, counseling students and conducting conferences and meetings among the activits and office bearers of the Dravidar Kazhagam.
Worlds may jostle out ideas but an expert he is in methodically letting them out in a manner convincing even to a die-hard opponent. Pedagogic methods and indiscreet expressions are absolutely alien to him. Courtesy and humbleness are the hall marks of his lecture.
Even in portraying irrationality, obscenity and vulgarity of the Puranas and epics, his speeches and writings will never go out of order. Fully conscious of women among the assemblage, he will be moderate in marshalling his points.
God speakers to, go berserk at times. They speak politics in marriages and prove to be indiscriminate and irrelevant. Not so Dr. Veeramani. Reasoning and relevance predominate in his extemporaneous lectures, relegating emotion to an ebbing. Suitability of content to fit in with the occasion will be superb in his lectures. His retentive memory and deep-rooted experience in public life go hand in hand to escalate the merit of his lectures.
No less meritorious are his writings. More than a centurion he is in his bi-lingual publications, that include polemicals, socio-religious criticisms, chronicles, political commentaries and biographies. His bok on Bhagawat Gita is a downright criticism of that myth. Though based on Mr. Narla's Truth behind Gita, it has plenty of additional notes and references from a lot of Tamil sources. A communist leader's factual errors and blunders in his book, Dr. K. Veeramani has corrected and on the same topic brought out an informative volume with historical accuracy of facts and figures.
Editorship of Viduthalai continuously by him for over half-a-century is a feather in his cap. This may amusingly be contrasted with the role of one Mr. K. Rama Rao who has been editor for over twenty journals in about thirty years of his journalistic career. A few readers may remember that this Rao has been the editor of now extinct National Herald, founded by Pandit Nehru. But with the editorship of Dr. K. Veeramani, Viduthalai, the Tamil daily is growing by leaps and bounds. Notionally in the pages of Viduthalai, Periyar is alive with his articles and speeches printed in the middle pages. The Modern Rationalist, an English monthly and Periyar Pinchu, a colourful and informative journal for juveniles go along for the causes of the Kazhagam and the progressive minded.
In a world of tradition and theism, Dr. Veeramani's atheism is non-offensive. Not virulent and dogmatic he is, but believes in effecting a smooth transformation of the traditionalist into sensible rationalists. In a society steeped in religious cults and superstition, his methodology of slowly – but-steadily seems to be the best.
Thanthai Periyar's precognition in choosing a typical disciple in Mr. Veeramani is astounding. Posthumous glorification of Periyar by the disciple is more than what he did when his mentor was alive. Periyar is globalised by him, to say the least. The widespread Periyarism, initiated by Dr. Veeramani even far beyond the shores of India is a silent tribute to the revered memory of that great leader. There were a few confidants earlier than Dr. Veeramani but they were shunted out by Periyar either because of their infidelity or due of their vested interest in the Kazhagam. This implies how far this young Stalwart was honest, lovable and loyal to Periyar.
The Dravidar Kazhagam is an acknowledged paternal body of all the Dravidian offshoots, even though one or two prove to be betrayers of the policies. They keep the badge of Dravidan dangling for their political survival among the masses.
In the interest of the nation as well as the State, what the like-minded parties should do is to form a think-tank with Dr. Veeramani as the chairman. Following the guidelines of Periyar, Dravidar Kazhagam and its chairman remain a political but vibrant enough to give objective guidelines. His legal acumen with a ripe experience of seven decades in public life will be an eye-opener for novices in governance.
This workaholic personality can't be seen alone without a book or two in hand. His constant reading habit has resulted in a number of volumes with humanistic essays that are encyclopedic in form and content. With no habits, he enjoys a god health to travel aboard and in disseminating the ideals of Periyar and in eradicating what all that are irrational and inhuman. No other word is eminently suitable except versatility to epitomise his intellectuality.
No wonder that the American Humanist Association has conferred on Dr. K. Veeramani, the Lifetime Achievement Award-2019. Fittest, recognition it is for all his selfless services in the cause of social justice and Humanism. He is the first Indian to be honoured with this Award. One of the earliest awardees is Dr. Salman Rushdie, the novelist. For some reason or other, he was under the threat of fatwah by religious zealots and has to remain incognito. But Dr. Veeramani's life is an open book and he keeps his doors open for rich and the poor and for friends and foes. Let him live long to serve the humanity at large. He richly deserves many more laurels and awards in the days to come.