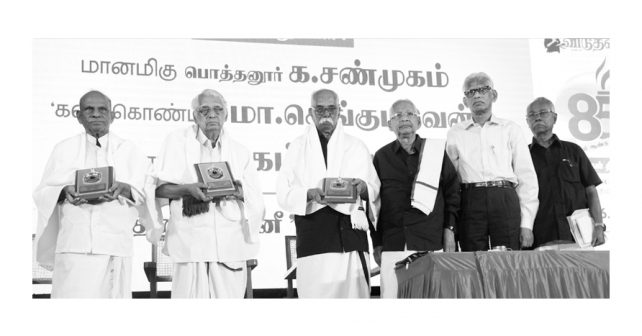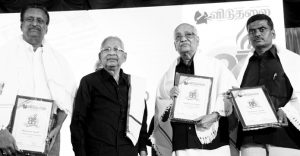 Honouring with 'Viduthalai Award' to the stalwarts – Mugam Mamani, Kavikondal Senguttuvan, Pothanur Shanmugam, Prof. Dr. N.K. Mangalamurugesan, K. Krishnamoorthy and Tamil Mannakkan who associated themselves with 'Viduthalai' during the past and at the present.
The 85th anniversary of 'Viduthalai' the Rationalist Tamil daily was celebrated on 1st June 2019 at Periyar Thidal, Chennai.
'Viduthalai', was started as weekly on 1st June 1935.  Subsequently it was published as daily.  Many personalities  who were associated with the editing of 'Viduthalai', became popular dignitaries in the public life of Tamil Nadu.  Among them, the prominent were Anna (enduring from of C.N. Annadurai) and Kalaignar M. Karunanidhi, the former Chief Ministers of Tamil Nadu. 'Viduthalai', an eveninger published the views and appeal on what to be done on the issues that affect the society, which many other print media dared not even to address.  The editorials of 'Viduthalai' captured the attention of the rulers of both the State and the Centre which enabled them to implement the solution, in the line suggested.  Discharging the social responsibility very timely is the significance of 'Viduthalai'.
The present editor, Asiriyar Dr. K. Veeramani, took charge of 'Viduthalai' in June 1962 through the open declaration made by its founder Periyar.  The Dravidian ideological pronouncement of self-respect, its interpretation and rationalism, its enrichment gave a new fillip to Viduthalai under the editorship of Asiriyar Dr. K. Veeramani.  The endearing form of calling Dr. K. Veeramani as 'Asiriyar' meaning 'Editor' by the black shirt cadres of Periyar Movement and the fraternity became a routine in public on the significant role contributed by him for 'Viduthalai'.  The yardstick for success and popularity is not on the profit earning capacity of Viduthalai but on the propaganda reach of ideology advocated by Periyar by it. In that way 'Viduthalai' has been successful ushering in  the change in the socio and political scenario of Tamil Nadu.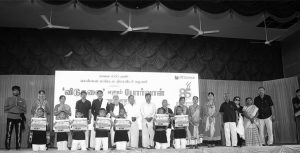 Cultural Programme, depicting the 85 year history of Viduthalai.
Coping up with the technological advancement in the print media, Viduthalai web edition was published first among the Tamil dailies and magazines from 17th September 1996.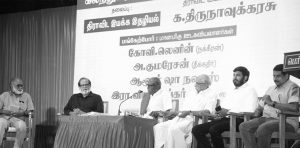 Panel Discussion on 'Viduthalai' headed by
K. Thirunavukkarasu, (Scholar on Dravidian Movement) in the presence of Com. T. Pandian, veteran Communist Party leader with A. Kumaresan (Theekathir), R. Vijaya Sankar (Frontline), Aloor Sha Navas (Socio Political activist) and
Govi. Lenin (Nakkheeran).
The 85th anniversary was celebrated comprising cultural programme depicting the history of 'Viduthalai', symposium, panel discussion with the participation fraternity from print media, interaction of the Viduthalai editor with its readers, felicitation to the work force associated with the publishing of 'Viduthalai'.
The function was held witnessing the concised history of 85 years of Viduthalai and its editor Asiriyar Dr. K. Veeramani for the cause of self-respect and rationalism aimed for equality and equate opportunities to all with the global ramification of patronizing humanism among the humanity.