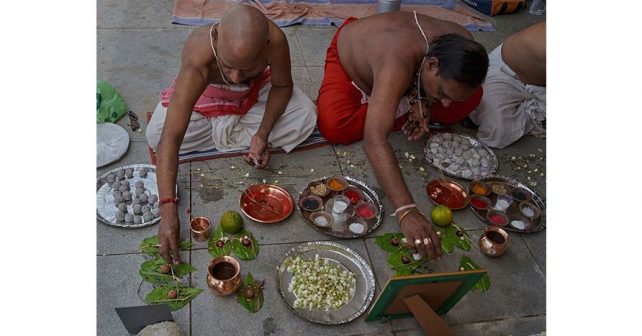 Most Festivals – Only Cultural Invasion!
Dr.K.Veeramani
The world has been a witness to cultural invasions aimed at annihilating the language, culture and civilisation of a targeted race.  These racial antagonists have made their festivals infiltrate the festivals of other races and gradually made the people admit them as their own.  The ancient era festivals have thus sneaked into our era by brahminist ploys.  With the passing of time we have lost our true identity wasting our time, energy and hard earned money on ridiculous festivals. It is high time we identified the festivals of the Tamil and discard all the ancient era festivals thrust on us through mythological works and baseless fables, fabricated by religious fanatics.  Imposing their festivals on us has been the strategy of brahmins to fade out our identity in the long run.
Revelation by names
An easy way to skim our festivals and discard those which are not ours is to look at the names of festivals.  For instance – Vijayadasami, Diwali, Vinayak Chaturthi, Gokulashtami, Srirama Navami, Navarathri, Saraswati pooja etc; have nothing to do with Tamil culture.  Their names reveal the truth that they are all Aryan infiltration.  They are in no way related to indigenous culture.
Celebrations and festivals are not the same in nature.  Events celebrated do delight us.  Festivals do not.  Aryans invaded the South a few centuries ago and flourished through us.  We gave them an inch but they took away a mile from us.  Having reaped a harvest of benefits from our field, these encroachers ultimately degraded and belittled us by betrayal.  We have been languishing our time and money upon the festivals imposed by them.
Rakhi – Recent Illusion
For few decades, North India has been mesmerised by another illusory festival called 'Rakhi', also known as 'Raksha Bandhan'.  This has been thrust like a sedative by the patronage of the RSS.  A band is tied by girls on the wrist of their brothers to denote sibling intimacy.  One more strategic invasion, indeed.
The leaves of a rare plant used to be crushed to colour the palms of girls red. It is called 'marudani' in Tamil.  North Indians now call it 'mehendi'. On the eve of a wedding in North India, applying mehendi-paste on the palms of the bride has become an interconnected ritual.
According to the almanac in vogue we follow a cycle of sixty years but none of them has a name in Tamil.  The voice of protest against this has been raised only by Thanthai Periyar and the Dravidar Kazhagam  (DK) founded by him.  Nobody else has questioned so far besides us.  Only people with true affinity towards Tamil language have been extending their support to us in our strife to prevent such cultural invasions.  Promoters of chaste Tamil continue their patronage for us, while others seem to be merely sucking their thumb in an unabashed manner.
Absolute skul-duggery
Pongal is a harvest festival hailed as Dravidian festival, but it was given a name – 'makara sankranti' by the ploy of the custodians of 'shankara mutt'.  The Manusmiriti of Aryans degraded agriculture as a sinful vocation.  Dravidian culture always glorifies farmers as venerable entities.
The word 'Jayanthi' is generally linked with names of most festivals, but it is not a Tamil word.  Little children are made to learn alphabet on Vijaya Dasami.  Saraswati is worshipped as the goddess of education. Does any of our literary work contain reference to such rituals and worship?  Tamil literature nowhere speaks of any of these festivals.  Why are we clinging to them?
An ancient religious work known as 'Abidana Sindamani' has on its page  1816, baffling codes of conduct pertaining to Vijayadasami festival. Obviously, they are in no way connected with learning activity of children commenced by parents on that particular day.  In brief, everything seems to be the skullduggery of brahmins hood-winking and pulling wool over our eyes.
Seek Identity
To make the land arise from its fall and to revitalise it, we must discover our own identity and wisely choose only those festivals which are truly relevant to us.  Let us enjoy only such festivals and discard others.  Brush aside and ignore festivals imposed by cultural invaders. We must prohibit and prevent their infiltration forever by our collective efforts.