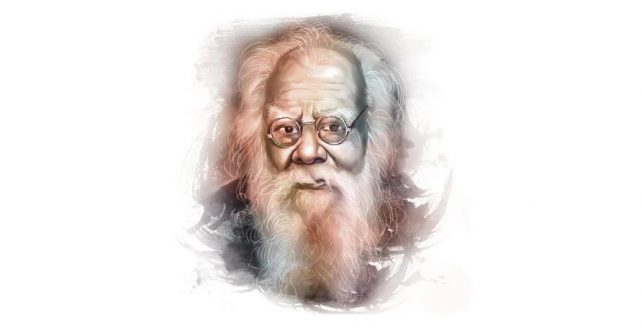 Thanthai Periyar on its signification for India 
On the May Day of 1935 (1.5.1935) during a historic celebration at Karaikudi in Tamil Nadu, under the presidency of ThanthaiPeriyar, thousands of cadres had thronged the venue to hear his speech. The event concluded with his valedictory Address. Excerpts from his speech or as follows:
Dear comrades, some of our cadres who spoke before me have already told enough about the glory of May Day. And yet, all of you expect me to say something relevant to it.
Though May Day is being celebrated all over the world, the way of celebration varies from one country to another. The celebration in England differs from that of Russia. In France it is not similar to that of Spain. The celebration in India too differs from that of several European Nations. This is because countries differ from one another in social, political, and economic conditions.
It is not wise on our part to expect well developed nations and under developed nations to celebrate it with an equal intensity and grandeur.
For instance, the objective of Russia's celebration is to make other nations emulate them. England, France etc.; celebrate with their desire to follow Russia in many aspects.Their mission is to mould themselves to match Russia's achievements. However, much difference is not there in any nation's basic principles and vision. To delink downtrodden people from the chains of slavery, to liberate the persecuted and suppressed, to establish economic as well as societal equality and to create social justice have been the common cause of a most all the nations of the people of every country exist with this objective there would be spontaneous efforts and successful rebellions.
Even the enslaved, suppressed and downtrodden people in various nations differ from one another. The labourers are classified depending on their nature of work and conditions of livelihood.
Hence, there is a class struggle and restless strife among the masters and the serving groups. It is merely a clash between the haves and have nots. But in India, the problem is not merely economic. Here labourers are segregated as per birth, race and community. Caste system reigns supreme in our country. Therefore, our labourers have to fight first to eradicate caste system and communal fanaticism. Economic inequality is placed on the back burner. In India rebellion against caste system and eradication of discrimination gets top priority rather than the fight for economic equality. Therefore, May Day celebration is differently significant for our country. For our labourers the fight against dehumanisation and social injustice is much more important than the fight against economic inequality. This is what I meant when I said that the significance of May Day is not the same for all countries in the world.
This disparity is mainly because our people have been classified according to their birth and religion as the ruling class and serving class.
In other nations, labourers are all labourers but in India they have been segregated as upper caste and lower caste labourers, as per the evil called 'varnas'.
Labourers pertaining to the fourth varna are labeled sudras – the low caste population who are expected to serve others for ever by manual labour. These sudra labourers are condemned to do all mean jobs and serve the people of castes superior to them. Where else in this world does such an evil condition exist?
The people who belong to the fifth varna are called Panchamas or chandalas. They are condemned to serve all other castes above them throughout their life. The masters of the uppercaste have the right to extract work from both these lower caste people without even paying them any wages. They claim such a right by the authority of their religion. Some of you may feel that conditions are not so horrible today but it cannot be denied that the sufferings of low caste people have not been fully mitigated. We still have to go a long way to see absolute upliftment.
Nearly seven crore panchamas exist today in our country. 99 per cent of them are being persecuted, humiliated and ill-treated till this date and this unpalatable truth cannot be denied. Similarly non–Brahmins known as the Hindus, both men and women still suffer as manual labourers. These Sudras endure untold sufferings and exist as guttersnipes even today.
Dear comrades, think for a moment and tell me whether you find even an iota of the emancipation in the condition of all our downtrodden laborers? Is not May Day much more relevant, best suited and appropriate for our country, compared with other nations?
Since caste system rules the roost in India, there is a dire need for us to celebrate May Day, primarily to abolish discriminations as Brahmins, Sudras and Panchamas. The objective of our May Day celebration must be total eradication of this evil. Our revolutions and rebellions must be aimed at these ultimate achievements. The celebration of May Day in India should not be merely a ritual.
The fight against caste system is the best alternative expressions for class struggle. Discrimination by birth is the sole reason for 99 per cent of lower caste people endlessly existing as slaves, working like bulls restlessly for the upper caste people. Unless this evil is totally eradicated, class struggle cannot be ended by any sort of rebellion or revolution. The destruction of the root is important – not the branches.
Today we define a master as the one who consumes without producing, as the one who ekes out a living by the sweat of others. For us, a labourer is one who faces all the bludgeoning's of life, struggling forever. Religions are the basis of castes. We must see if we can ever end the master-labourer class division by some means other than eradication of caste and religion. Do we have an option for the upliftment of our working class? This is a moot point, indeed.
Political leaders who scream on stages, promising upliftment of labourers are hypocrites who do not mean what they say because they can never do so without abolishing caste system and religious fanaticism. Most of the leaders themselves are communal fanatics with masked faces.
There are self-centered who form labour unions and convene several meeting with monthly wage earners or daily-wage labourers. They hoodwink gullible workers. They lure poor workers by false promises. Such people exploit labourers for their own survival. Like some smart leaders who use political and national fervor for personal benefits, these leaders of labourers actually pull wool over the eyes of innocent labourers. We should beware such hypocrites, who pretend to be well-wishers of labourers.
The Hindu religion and its varied caste bifurcations were formed long ago in order to perpetually establish the master-servant segregation. Hence I repeatedly stress that there is vast difference between our May Day celebration and that of other countries in the world.
It cannot be said that the class struggle revolving around the masters and labourers was generated by the clash between the white and the black population. Infact the white people were the ones who created awareness among Indians that the master-servant segregation must be abolished. In brief, apartheid has nothing to do with our problem. The crux of our problem is discrimination as Brahmins and non-brahmins. Obviously, we differ from other nations in this respect. The problems of Indian labourers are exceptional. Hence the significance of May Day is also exceptional for our country.
I have frequently been stressing that the national spirit of India has actually been shielding the classification of capitalists and labourers. The nationalist spirit has been protecting and nurturing castes and religions instead of abolishing them. Today in our country the clash between Brahmins and non-brahmins is infact class struggle in disguise. It is an eternal struggle between the haves the have-nots; the capitalists and the labourers.
The capitalist class comprising Brahmins has been surviving exploiting others. Therefore they have been antagonizing the rebellions of non-brahmins. The sluggish Brahmins treat non-brahminsas their enemies have been endlessly persecuting them. Brahmins have been accusing non-brahmins for spreading communal hatred and igniting communal clashes. In fact it is the Brahmin community, which has been igniting the sparks of the communal clashes by their unjust codes of conduct. This is like the pot calling the kettle black.
Another evil in the world of labour is gender bias. Women should no longer remain enslaved by men. The gender difference is based purely based on birth. Hence, women are to be treated on par with men. Inequality must be eradicated. No woman should be considered inferior to men. There should be no class struggle between men and women labourers. Equal wages and equal treatment in all respects are essential.
Women should fight against every ill treatment meted out to them. Men would surrender and accept defeat if women dare to protest with unflinching resolve. Women should come forward to rebel for their cause.
May Day today should be celebrated like a grand festival to glorify our achievements. In fact all the festivals such as Diwali and Srirama navami are strategic glorification of mythical achievements. They were all designed for entertainment and pleasure. Religion, worship, reverence or self-respect have nothing to do with most of our festivals. Hence, let us celebrate May Day today to recall all that we have achieved so far. Though most of our womenfolk and our workers derive at least a little pleasure and rest on such occasions. If we start celebrating 'May Day' etc. as festivals, gradually religion and caste based festivals may vanish. Celebration of May Day like a festival may lead to reformations in society.
My dear comrades, think deeply over my speech and decide for yourself what is right and acceptable. Adhere to it and learn to live accordingly. I conclude my speech with the hope that you would reap benefits from this historic celebration.
Courtesy: KudiArasu – 12th May 1925