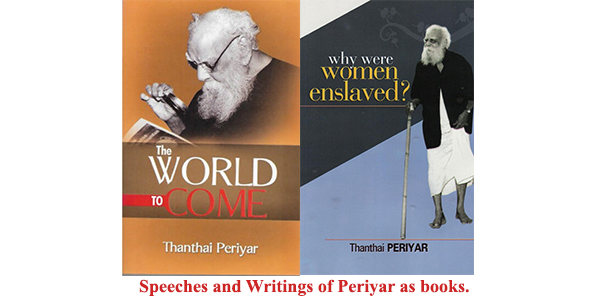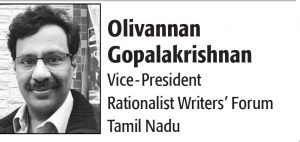 Continuing from the previous issue
Feminism and women empowerment
Another segment that benefited from Periyar's views are women. He had strong views in favor of feminism. He unhesitatingly criticized religion, which aided in the slavery of women.
Periyar believed that change must begin at home, before one can preach to others. When his 10-year-old niece lost her husband a month after her wedding, Periyar got her remarried. He did this despite facing stiff opposition from the family.
Property rights for women
He brought in various resolutions and got them passed at the self-respect conference held at Chengalpattu in 1929, which had significant and far-reaching impact on women's rights. One of the important resolutions demanded equal property rights for women. Though attempts were made in this regard in independent India, only in 1989 during the DMK government did this become law in Tamil Nadu.
The rest of India caught up much later, in 2005, when the union government passed a law safeguarding the interest of women, when Manmohan Singh was the Prime Minister and DMK was an active partner of the coalition government.
Raising the age of marriage for women
Early on, at a time when child marriages were the norm, Periyar had demanded that the minimum age of marriage for women should be raised so that they are not weighed down by domestic responsibilities at a tender age that would ruin their life. It was raised to 18. And now the current union cabinet has agreed to bring legislation to increase the age of marriage for women to 21 on par with men.
Periyar also advocated for the right of women to select their own partners in marriage, whereas arranged marriage was the norm and largely continues to be. He expressed progressive ideas that were at the time thought to be extremely controversial. He said childbearing makes women's lives complicated and puts a burden on them; instead, babies should be produced in laboratories. Periyar expressed these ideas at a time when the concept of test-tube babies was still far into the future.
Undoubtedly, Periyar's outlook and views were shocking and unacceptable to orthodox, conservative societies.
Practical suggestions to empower women
The pragmatic leader even advised that houses should be built without kitchens, so that women don't waste their time slaving over the stove. Instead, community kitchens should be set up, he wrote this in his famous book, Penn Yaen Adimai Aanal (Why has Woman Become a Slave). This was at a time when women were relegated to the kitchens and had no standing in society. Although the concept did not quite take off immediately, today we are witnessing an increase in community kitchens in our society.
Periyar was very practical in his suggestions. He said women should cut their hair like men and wear pants and shirts for ease and comfort, instead of complicating their lives with sarees. Recently, a few schools in Kerala brought in common uniforms for both boys and girls in their campuses, which exemplifies Periyar's farsightedness.
Brahmins too benefited from Periyar's views
Though there has been a misconception that Periyar opposed brahmins, it was never about individuals. His opposition was to brahminical authority. In fact, he had many brahmin friends. Sivasankari, a famous writer from the brahmin community, once in an interview to a Tamil weekly said that brahmin widows of Tamil Nadu should ever be grateful to Periyar for the transformation in their social status.
What the visionary leader did for women will always be remembered with affection. After all, women in Tamil Nadu are living examples of the progress his ideals brought to their lives.
Vaikom Satyagraha and Temple Entry
Periyar is also known for his role in the fight against discrimination. In 1924, when a young lawyer from a lower caste walked on the street adjacent to the Shiva temple in Vaikom, Kerala, he was assaulted. There were widespread protests. But it was thwarted by the police. To continue the agitation Periyar was invited. His prolonged fight led to his rigorous imprisonment. But ultimately he won the battle when the princely State ordered that people of all castes could walk on any street.
Similarly, Periyar fought and succeeded in ending the practice of discrimination in serving to people of oppressed castes at the Cheranmadevi gurukulam run by Va Ve Su Iyer.
Despite being an atheist, he understood the importance of the need for people to be treated equally everywhere, even in temples. He fought for the right of people from all castes to perform pooja inside the sanctum sanctorum of temples. His dream has recently been realized after a long court battle. Could it be any clearer why Periyar is liked by the religious?
Visionary leader who foresaw the future
In his book, IniVarum Ulagam (The World to Come) Periyar envisaged the possible advancements the world would make in science and technology. When even Graham Bell's version of the telephone was not widely known about, he wrote about how there would be a wireless telephone and also facilities to see each other while talking on the phone. Today video calls have become common.
Periyar was a humanist. He firmly believed every species had a right to live on this planet. When he advocated contraception, people asked what if there were no children in the future. He quipped that we need not worry as the world does not belong to us alone. He was also harking back to his view that the world was not created by gods.
Periyar's ideologies are against those of the conservatives and the fundamentalists. So, it's no surprise that they oppose him, and their opposition takes on newer avatars to take on the progress made over time.
But even 48 years after his demise, Periyar continues to live through his works, and his teachings act as a perfect antidote to all social ills. Is it any wonder then that this tall leader is a much-beloved icon of the Tamil people?
Source: 'Mathi'