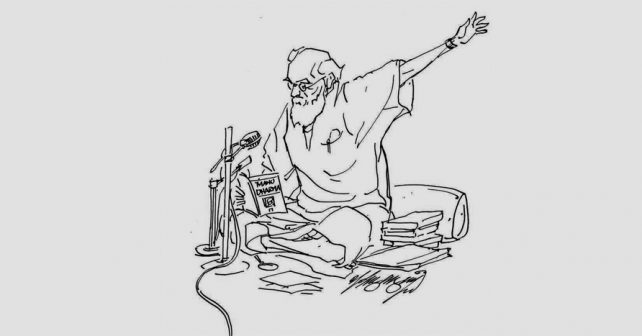 Igladly consented when some students asked me to address them on behalf of Dravidar Kazhagam. Yet till this moment I have not given a thought to what I must speak on. You students look to be 15 to 18 years of age.  I have to be very careful about speaking something useful and suitable to you.  Those times have gone when people used to ask why talking to the students on anything other than their studies.  Since education itself is in a bad shape, one has to speak on something at least in order to rectify the harmful effects of that education.
The Nature of your Education
First of all your education is aimless.  Besides even the school and the teachers have no say in what to study.  So, if any good has to come out of this education, it is only what might come accidentally, of its own accord.  No one can expect any substantial outcome.  Outwardly education is said to be for the development of knowledge.  But do educated people exhibit any development of knowledge?  Are educated people intelligent and knowledgeable?  It is not possible to say 'Yes'.  Even the knowledge accidentally acquired is not general.  It is confined only to the branch of specialization.  Even in the branch of specialization, the knowledge acquired is not proper, but full of contradictions.  Whichever branch is taken, the students acquire both right knowledge and superstitions.
Not only the students, even the educated elders and teachers are found to be superstitious.  Take history, geography, science, astronomy, or biology.  Take anyone who admits to have completed their education in any one of these subjects.  Can it be said they have acquired real knowledge in it free from superstitions? Those who have studied history have studied itihasas like Ramayana and Mahabharata along with them, believing that Rama and Bharata have ruled this country, and this country is called 'Bharata Desam', and go about hailing Bharat Mata. Those who are supposed to have studied history are not aware of real historical incidents or personages. They know more about incidents that did not take place, could not have happened, or incidents for which no time can be ascertained.  90 out of 100 students cannot say anything about Chera, Chola, Pandya or Nayakka monarchs, their siblings, family members, the boundaries of their kingdom, or their jurisprudence. But 90 out of 100 of them know a lot about Rama, Krishna, Duryodhana and his brothers, Hiraniya, Mahabali, Manu Needichola, their brothers, consorts, offspring, and the number of wives each one of them had.
Those who have graduated in geography may not have correct knowledge of the area of the earth and its divisions.  But they have a thorough knowledge of the non-existent and impossible to exist seven worlds, netherworlds, and their nature.
Those who have studied astronomy will not have any idea of the true nature of the sun, the moon, the planets, their movements, the reason for their climatic conditions.  But they will have good knowledge of the fictitious accounts of the sun's having seven horses, the curse which caused the waxing and the waning of the moon, their wives and children, their immoral behaviour, Rahu and Kethu swallowing the sun and the moon causing eclipses, the expiatory rituals for them.  They will believe in all this and behave accordingly.
Regarding science education, the less said the better. Observe the science experts of the day and you will have a very good idea of their education and its outcome. Hence, there is no connection between the education imparted today and the resultant conduct of the educated people.
The Results of Education
Moreover, has the education resulted in character formation, patriotism, racial pride or sense of equality? Are they to be found even a little in educated people?  Not at all. Only imaginary traits and greed are found in them.  What is to be expected is very rarely seen in them.
You people who are undergoing this kind of education are very young, I do not feel that my sharing all this with you and asking you to think about them will lead to any harm. Discuss matters with your teachers when your teachers are imparting to you this kind of education. If you think on your own on these matters and put questions to the teachers, they will try to answer these questions through thinking and analyzing.  This will enable them to arrive at the truth.
Even when you reproduce in the examination what you have been taught and have learnt, you may be able to discern what is true as per your own intelligence and experience.  So try to get the complete details whenever you come across contradictions.  If more and more students are determined to find out the details, your teachers will be forced to acquire useful knowledge at least in order to impart the necessary information to you.  If the number of such knowledgeable teachers increases, education will no more be a burden to people. I am sharing all this with you because until now people in the department of education have not yet thought of this shortcoming.  I want you to understand that education has been giving you real knowledge side by side with counterfeit and contradictory ideas.
So far I have been talking to you about education. Now I want to talk to you about your organization – Dravida Manavar Kazhagam (Dravidian Students' Association).  Why did you have to use the word 'Dravidian'?  We find the word being used everywhere – something which has not been done so far.  People ask: Already we have been having so many divisions.  Then why one more new division?  When such questions are put to you you must be able to answer them.
Otherwise our detractors will try depict that this nomenclature will create a new division and engender hatred and discrimination against peoples, which will destroy all our initiative and endeavour. This is the habit of our opponents.  The words 'Dravidian and Dravidar' are not our creations. They are historical terms that denote our land and our people, and they have been in vogue for thousands of years.  If you want to know more about it you refer to your textbooks of Indian history. The first lesson will be on 'Dravidam' and 'Dravidar'.  If you turn the pages, the next lessons will be on 'Ariyam' and 'Aryans' and contain information – right or wrong-on Aryans.
These facts on Dravidians and Aryans have been taught to you in school days.  They are facts known long ago, and have been discovered by research into ancient works. Through a very perusal of these pages we can to some extent understand facts about our country.  I want to talk to you about it (Dravidianism) in detail so as to acquaint you with certain facts.
Why this attempt?
Why should we start talking about it now?  The word 'Dravida' has been in use for thousands of years.  By renewing its use now are we going back to those days?  No one should entertain such thoughts.  We are not going backward.  We have learnt it as youngsters in our history lessons.  Yet why has our experience failed to retain it in memory, we have to ask ourselves.
What was the harm that happened to us since we have forgotten our Dravidian ancestry? The answer is: It is only on account of that we have been relegated as the fourth and fifth caste in the society.  We are illiterate in our educational status.  We are wage earners in our occupation.  We are poor in status.  In politics and spirituality we remain subjugated under an alien supremacy.
In knowledge, culture and self respect we remain barbarians.  This condition is not of a recent origin.  We have remained in this condition since the time we forgot that we were Dravidians belonging to Dravidanad; for thousands of years.  If we remind ourselves of our Dravidian ancestry, we will realise where we Dravidians are, in the international community, what is our condition and what should have been our position.
In the entire world only the Dravidians are in this shameful condition.  No other race.  Not in any country other than Dravidanad.  In our society, one group, that of the Aryans are high in status by their very birth.  And we Dravidians are of low birth enjoying a low status.  Our people are not aware of this.  Even if aware they do not strive to remove it.  Even if they strive they do not succeed.  Why?
Since you have not considered yourselves as Dravidians and have failed to remind yourselves of it you have been forced to subject yourselves to your disgrace and low status, accepting it as your due.  When you tried to come out of those shackles without keeping in mind your Dravidian ancestry you could not break them.  All those people among us who made similar attempts failed and still remain in the same old condition because of the same factor.
One who is in prison must come out through the same door through which he went in. If he does not take the gate or the lock into account, or try to break them, but keeps bumping into the wall, how can he succeed in coming out?
The Dravidians have been locked into the jail of shame and disgrace since they have been overpowered by Aryanism without any realisation of their Dravidian origin and became slaves of Aryan religion, culture, customs and tradition.  What else could be the reason?
If anyone wants to get out of the horrendous bondage, should he not be prepared to shatter the Aryan shackles binding his hands and legs?  What is the use if he comes out still bound in the shackles?  If you have to remove the disgrace caused by Aryan subjugation and barbarities you should get out of Aryanism.
Translated by Prof. A. Ayyasamy
Source: 'Kudi Arasu' 14th July 1945
to be continued in the next issue…