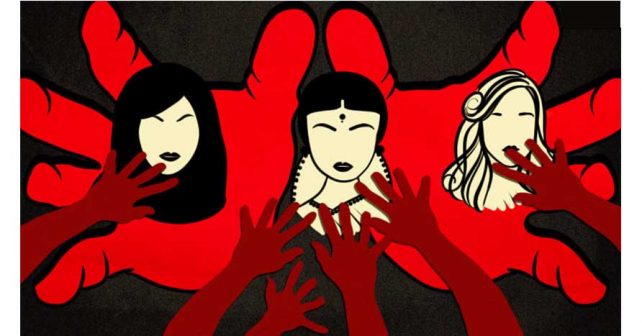 In Uttar Pradesh, a 42 year old anganwadi worker was gang-raped allegedly by Mahant Baba Satyanarayan, his driver and disciple when she had gone to the temple on Sunday evening. The trio dumped the woman at her house around 11 p.m. and claimed before her family that she had fallen into a drywell. She was declared dead on arrival at a hospital
The victim's family has accused the State police of sending her body for a post-mortem 24 hours after they had lodged a police complaint. The delayed action on the part of the police facilitated the protection of the accused allowing them time to flee. While the main accused is absconding, the other two associates were arrested. The cruel part of it was known later that while carrying out the gang-rape, a hard object, probably an iron rod had been inserted into the victim's private parts and her leg fractured. The offence was almost like that of Nirbhaya case.
The incident came to the public attention when it was published in the print media. While condemning the deliberately delayed action of the police, the statement made by Ms. Chandramukhi Devi, member of the National Commission for Women, was highly ridiculous without even understanding the gravity of the offence and the irreparable loss caused to the victim's family. It was as follows:
"I think this incident would not have happened had she not ventured out of home late at night or if someone from her family had accompanied her".
Perhaps the member would have given priority to discharge the responsibility she already held viz. the president of the Women's Wing of the BJP (Bihar) and the chief of the Durga Vahini, the Women's Wing Viswa Hindu Parishad. The condemnable utterance of the member reflected the same tone of the chief of RSS, after the turmoil of the Nirbhaya incident.
Whatever be the time of the mobility of women, it should be the prime duty of the law and order authority to ensure safe environment to every citizen. How can a member of National Commission for Women state indirectly that the crime would not have happened had not the victim come out to the temple by 5 p.m.  The saffronwalas who claim their pride of Hindutva impose restrictions on the timing of worshiping Hindu god by the socalled Hindu women. What else could one expect from the saffron outfits who uphold the Manusmriti, that degrades women by all means?